Before & After: A Sloppy Guest Room Turned Graphic Home Office
Do you have a sloppy, barely used guest room but desperately need a dedicated home office? I definitely did. I think it's a pretty common problem actually. For a long time we basically had a mattress propped up against one wall, and a makeshift desk along the other.
I wish I could say these were staged but sadly, this is what it ALWAYS looked like. When guests came? The mattress was layed on the floor. THAT'S IT. This was basically a flop house.
Here's the deal: I work from home full-time in a creative profession. I sometimes need to jump on video calls. This was not the place for that. Messy, depressing, and not super functional. There was a MATTRESS stored along the wall for crying out loud.
The Punchlist
Here were the must haves:
Someplace visually inspiring. Not boring. If I'm bringing it for my clients I need to be in the right frame of mind. I needed art and pattern and life! And to replace the heinous boob light!
Someplace functional. More plugs, task lighting, and the option for multiple workstations. Matt and the kids work alongside me sometimes.
Someplace task-oriented. Think mammoth whiteboard.
The Layout
One of the biggest issues to tackle was the layout. Staring at a wall all day when there's a beautiful yard to look at was just plain silly. And in order to fit multiple people at the table (er, desk) I needed to use at least three sides. Enter this configuration:
I ended up moving a bunch of IKEA shelf units along the main wall and placing the desktop perpendicular to everything facing a window rather than a sad sad wall.
I used an inexpensive butcher block desk top and screwed some chic table legs to it. Easy peasy!
I also drilled a 3″ hole into the desk top and popped in this power dock in order to have access to the outlet behind the wall of bookcases.
Getting there! The desk and bookcases were set up, the power was situated, the only thing left on this wall was to make it look nice. I decided to go with my signature coat of black paint for an accent wall along with a focal piece of artwork with some cool vintage pieces to offset the functional aspect (I'm looking at you printer…)
The Whiteboard
OK, now the desk wall was situated and it was time to make that epic whiteboard happen. I decided to use the former desk wall since it was the widest expanse and the least furniture usable in the room. Take a look:
See how it butts up against the closet doors? Not super usable. But turn it into a whiteboard with no furniture to block those doors? Now you're talking.
My grand vision was to create not only a full wall whiteboard, but a full wall white board MURAL. Awesome, right??
Rather than paint an actual mural, I decided to take a little help by hanging a wallpaper mural to start. Since my profession is literally design and illustration I designed a custom mural.
If you're interested in DIYing your own whiteboard mural, check out my detailed how-to post.
The broad strokes are: hang the mural, paints LOTS of coats of dry-erase paint, let dry forevah.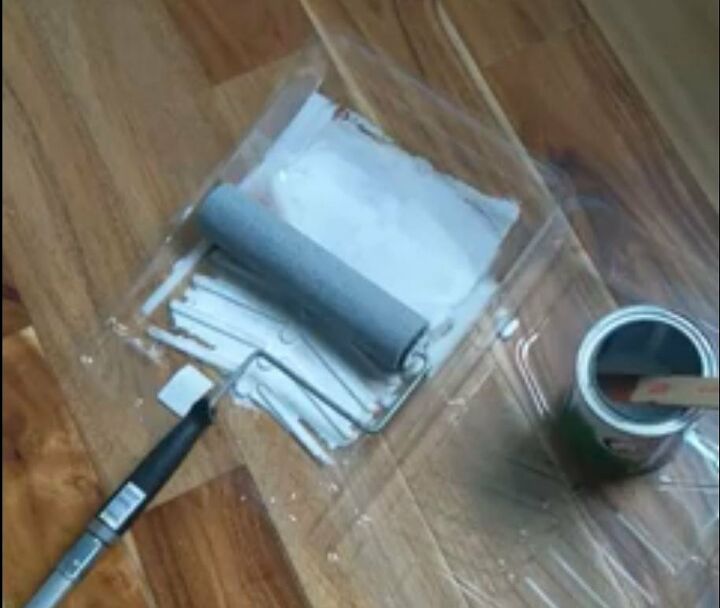 And here's the after! Let me tell you, this dry erase wall is a gamechanger. I love it for jotting down notes on calls and brainstorming blog posts, my kids love it for drawing butts and sunflowers while I'm trying to squeeze in 10 more minutes of work. Win-win!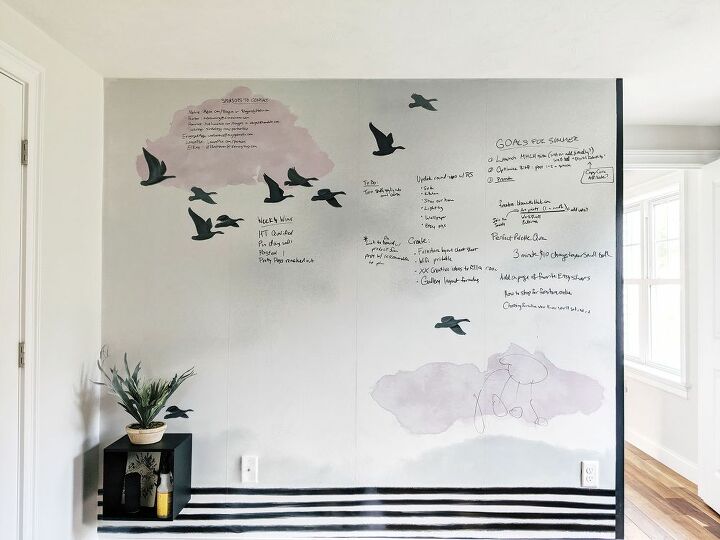 The Vertical Paper Organization System
I had one last wall to deal with and was at a bit of a loss. It was even LESS usable that the whiteboard wall (this room is a little ridiculous) but would look very sorry and sad if I left it empty.
Before, I just parked my filing cabinet and a computer I never use between the two windows. The reason it's so tricky is that it's the main pathway from the door, so nothing can jut out more than a foot.
I didn't want to do more art since I already had an accent wall AND custom art AND a giant mural. Adding more art in 10 x 12 room felt a little extra. However, I did need some organization…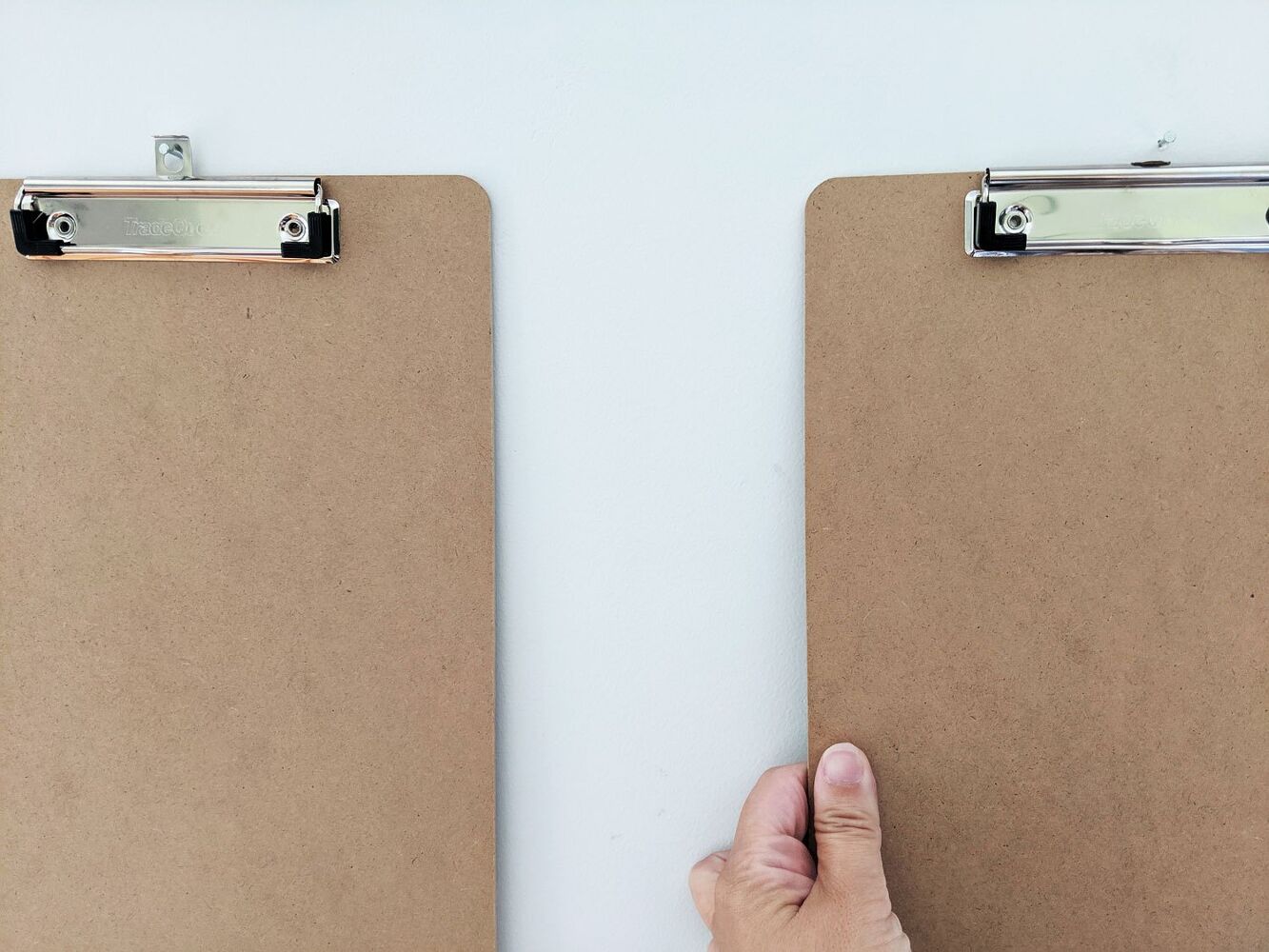 Enter the humble clipboard. I created a vertical paper clutter corraling marvel that has made me feel like a semi-together lady ever since.
Want more details on how to create your own in less than 30 minutes? Check out this post.
In Conclusion
This home office makeover has been everything and more. It's a creative respite, a fun place for the kids, and a practical workhorse of a room. I can honestly say I don't think there is a thing I would have done differently. Except maybe add some closet organization…