The 18 Best Stools for Your Kitchen Island (2023 Edition)
Last year, we did a small kitchen remodel. We added a custom island and painted our cabinets black (swoon!).
Once that was complete, I was on a mad hunt to find the best counter stools for my kitchen island. I found SO many incredible options over the days (and days) I scoured the internet.
So, of course, I wanted to share them with you too!
Pin for later!
This post contains some affiliate links for your convenience. Click here to read my full disclosure policy. Thanks for supporting Bloom in the Black!
Here are my thoughts and recommendations for my top six choices (including the gorgeous walnut MCM counter stools I ultimately chose). At the end of this post, you'll find all 18 that that made the final cut.
The details on this stool! The rivets? The leather? The rustic meets industrial style? I swoon. Not only does the counter stool look good, but the padded seat makes for super comfy perch. I like that the low back won't mess up any sightlines across your kitchen island and that the leather will make it super easy to wipe up any spills.
Try this leather and steel stool if you're looking to add a touch of warmth with an edge to a kitchen with darker cabinets. This option would look a bit out of place in an all-white kitchen, so steer clear if you have white or lighter-toned cabinets.
Now THIS is the stool to choose if you have a light and airy kitchen. The color plays beautifully with pale tones, but the thickness of the legs helps to ground the space. When looking for stools for a kitchen island, you always want some contrast; the challenge is deciding whether it's quiet or loud. This is the epitome of quiet contrast.
The nice thing about this counter stool is that while it's perfect for a white kitchen, it plays just as well in a moody kitchen. I might just call this the best all-around counter stool.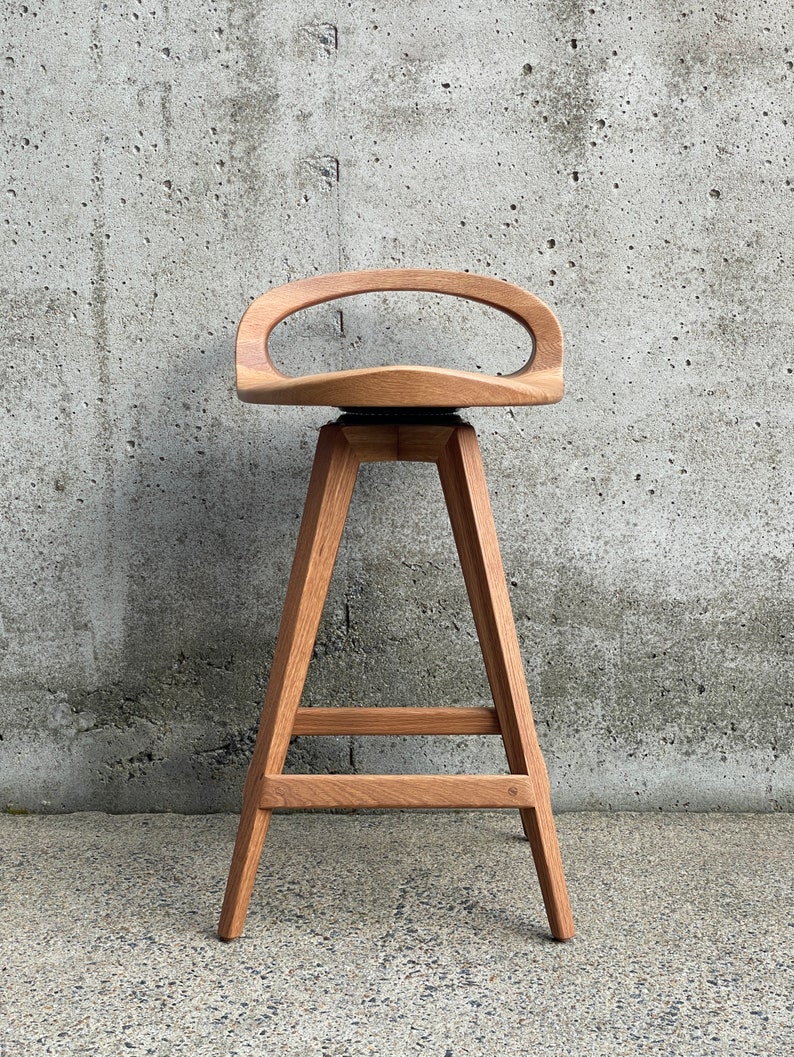 These are the counter stools I have at my kitchen island, and I adore them. Real talk: these stools are definitely an investment, but each one is handmade and signed by the artist. The best part? You can have this built to the exact height you want. So whether you want a slightly lower counter stool (like we did as a fairly tall family), or a max-height bar stool, you're covered. The walnut is silky smooth and curved to fit your natural shape, so they're crazy comfortable even without being upholstered.
Choose this walnut swivel stool if you're looking for an heirloom piece to pass down through the generations or if you simply have a deep appreciation for craftsmanship and mid-century modern styling.
A really pretty option if you're looking for a true classic, this traditional counter stool has a beautiful antique brass base that plays well in any vintage-inspired space. I love that it's backless and round, so it works well if you need to place your stools close together to fit as many people at your kitchen island as possible. The foot rest is also a nice touch for added comfort.
Choose this stool for any dark or light space that would benefit from a little gleam. The style is a chameleon, so it won't be out of place in anything from a modern farmhouse kitchen to an antique Victorian breakfast bar.
I will be the first to say that modern farmhouse is my anti-style. No shade, it's just not my go to. But this oak and ironstool has my heart. This was a very close runner-up for our kitchen and I'll tell you why. The clean lines allow your kitchen island to be the star if that's what you're after. The slim pad on the seat encourages lingering over breakfast (or cocktails in the evening). And that black metal footrace slays me. It adds just the right touch of contrast — it's almost giving schoolhouse vibes.
Choose this counter stool if you're a minimalist who still loves a surprising detail.
I wanted to buy these cozy counter stools SO badly. Would it be like sitting in the lap of a life-sized teddy bear? I really wanted to find out.
These also play into the boucle furniture trend that's stuck around for the last few years. The only reason I didn't go with these is, well, kids. My girls would have stained these within days of taking ownership.
Choose these only if you have a household of extremely neat adults.
None of these counter stools float your boat? I rounded a few more up for you! Click the images to shop.
The Best Counter Stools for Your Kitchen Island