Decorating Ideas for a Small Patio: Expert Tips and Tricks
Have you ever noticed that most decks and patios tend to be a little, well, small? I've found that to be the case in most new build homes, mine included.
Making the most of your small patio by transforming it into a charming, comfortable outdoor retreat might feel almost impossible. But with the right approach, you can create an inviting space for relaxation and entertainment.
In this post, I'll share some amazing decorating ideas that will help you make the most of your small patio while staying on budget.
This post contains some affiliate links for your convenience. Click here to read my full disclosure policy. Thanks for supporting Bloom in the Black!
The first step is to choose furniture and accessories that, well, actually fit into your limited space.
As you browse through the options, consider multifunctional pieces that serve more than one purpose, such as storage benches or collapsible tables. Additionally, selecting visually lightweight furniture can make your patio feel more spacious and less cluttered.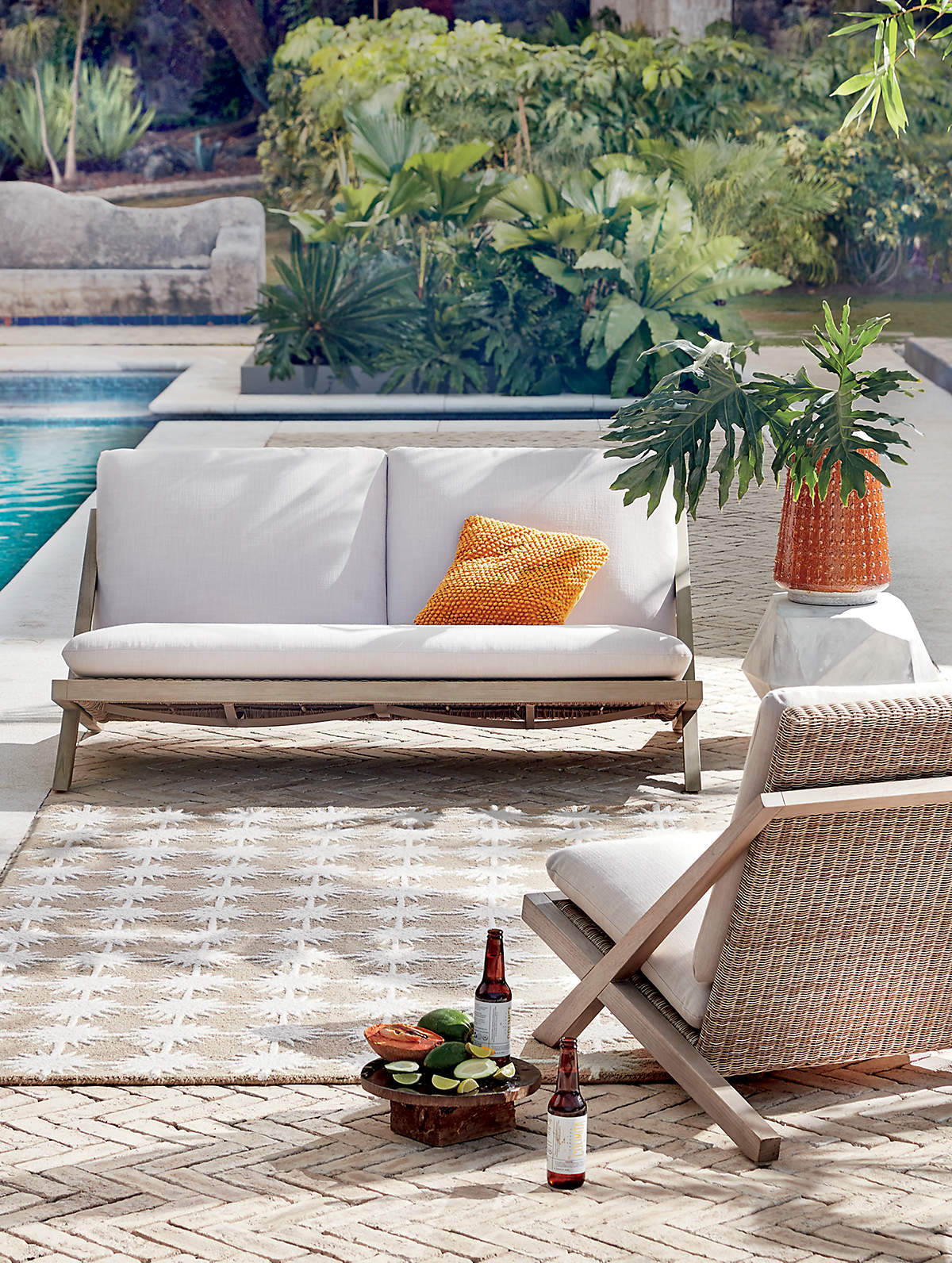 Shop this look on CB2
Next, introducing a focal point, such as a small sculpture or a decorative tree, can add depth and interest to your space, taking it to another level of sophistication.
With these tips in mind, you're ready to turn your small patio into a cozy sanctuary for you and your guests to enjoy.
Understanding Small Patio Layouts and Space
Effective Use of Space
When it comes to decorating your small patio, it's essential to understand the layout and make the most of the available space. Here are some tips to help you:
Define the purpose: Before you begin, consider what you want your patio to be used for, such as entertainment, relaxation, or dining.
Divide the area: Even in a small patio, you can create separate zones for different purposes. Use rugs and plants to visually divide the space.
Vertical space: Make use of the vertical space for storage or decoration by installing shelves or hanging planters on walls.
Shop these planters on Wayfair
Proper Furniture Scale
Choosing the right furniture for your small patio is crucial to ensure it doesn't look crowded or cluttered. Here are some suggestions:
Choose multi-functional furniture: Look for items that serve multiple purposes, such as a bench with storage or a table that can be folded away when not in use.
Opt for compact designs: Select furniture that complements the size of your patio. Smaller, streamlined pieces work best in limited spaces. Avoid bulky or oversized items that might dominate the area.
Following these guidelines, you can make your small patio feel more spacious and inviting. Remember that a thoughtful layout and appropriate furniture scale will make a significant difference in the overall look and functionality of your outdoor space.
Incorporating Comfort and Functionality
When it comes to decorating your small patio, it's important to strike a balance between comfort and functionality. By choosing the right furniture and storage options, you can create a cozy and inviting outdoor space for lounging and entertaining.
In this section, let's talk about multi-functional furniture, built-in benches, and storage solutions to help you maximize your small patio.
Multi-Functional Furniture
Opt for outdoor furniture that serves multiple purposes to make the most of your limited space. Consider a compact dining set that can also be used for lounging or entertaining guests.
Look for pieces that can easily be folded or stacked when not in use, such as Adirondack chairs or collapsible bistro sets. This way, you won't have to sacrifice comfort for functionality.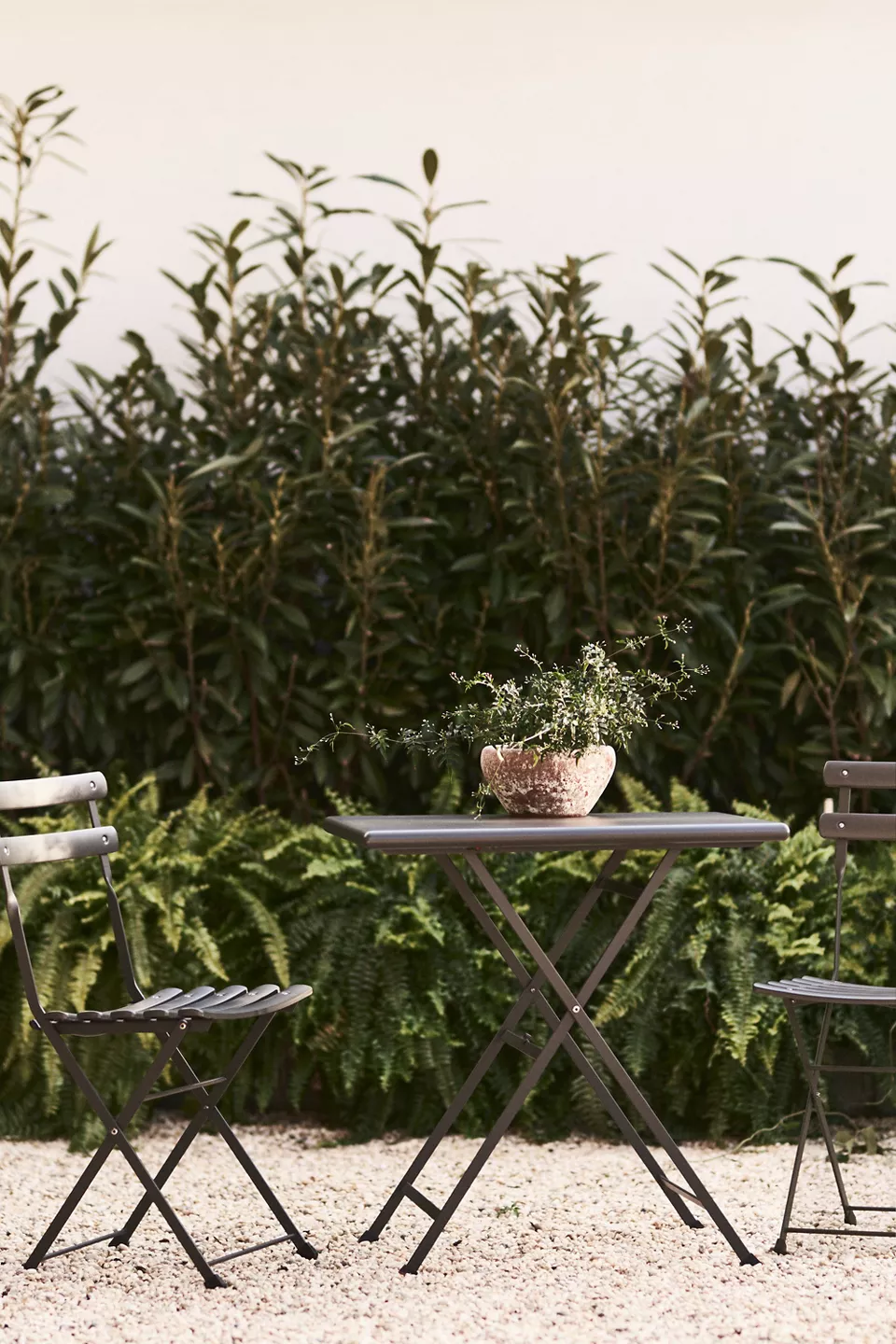 Shop this bistro set on Anthropologie
Built-In Bench
A built-in bench is an excellent way to save space on your small patio while still providing ample seating for your guests. By incorporating a built-in bench along the edge of your patio, you can eliminate the need for additional chairs.
Plus, it adds a stylish and functional element to your outdoor space. The best kind of piece!
You can also encourage lounging by adding plush cushions and cozy throw blankets to the bench for added comfort.
Check out my tutorial on how to build a built-in bench yourself!
Storage Solutions
Finally, finding clever storage solutions is essential for keeping your small patio organized and clutter-free. Consider using furniture with built-in storage compartments, such as end tables or coffee tables that double as storage containers.
Check out these creative outdoor storage DIYs from Hometalk for inspiration.
Alternatively, you can use nearby vertical space by installing wall-mounted shelving units or hanging baskets to store your outdoor essentials.
By integrating these storage ideas into your small patio, you'll be able to enjoy a neatly organized outdoor space.
Creative Lighting Solutions
What's a patio on a warm summer evening without magical twinkling lights? A missed opportunity, that's what!
Making your small patio into a cozy and inviting space requires thoughtful lighting design. By incorporating a variety of lighting options, you can dial up the ambiance of your outdoor room and maximize its functionality. Here are some ideas to help you brighten up your patio in style.
String Lights
String lights are an affordable and versatile option for illuminating your patio area.
They're also my personal favorite!
Hang them around the perimeter, attach them to light poles, or weave them through foliage to create a warm, welcoming atmosphere. String lights come in various shapes, sizes, and colors, so you can customize the look to perfectly suit your style.
Be sure to choose outdoor-rated string lights to ensure they can withstand the elements.
I actually just ordered these string lights from Amazon based on their excellent ratings — I'll report back on whether they live up to the hype.
Outdoor Lamps and Lanterns
To add extra character to your small patio, consider incorporating outdoor lamps and lanterns into your design.
These can come in various styles, from floor lamps to table lamps, making it easy to find one that suits your aesthetic. You can place them on side tables or directly on the ground for a unique, layered look. Ensure you select lamps that are specifically designed for outdoor use.
For more inspiration, browse through these creative patio lighting ideas from Homes and Gardens.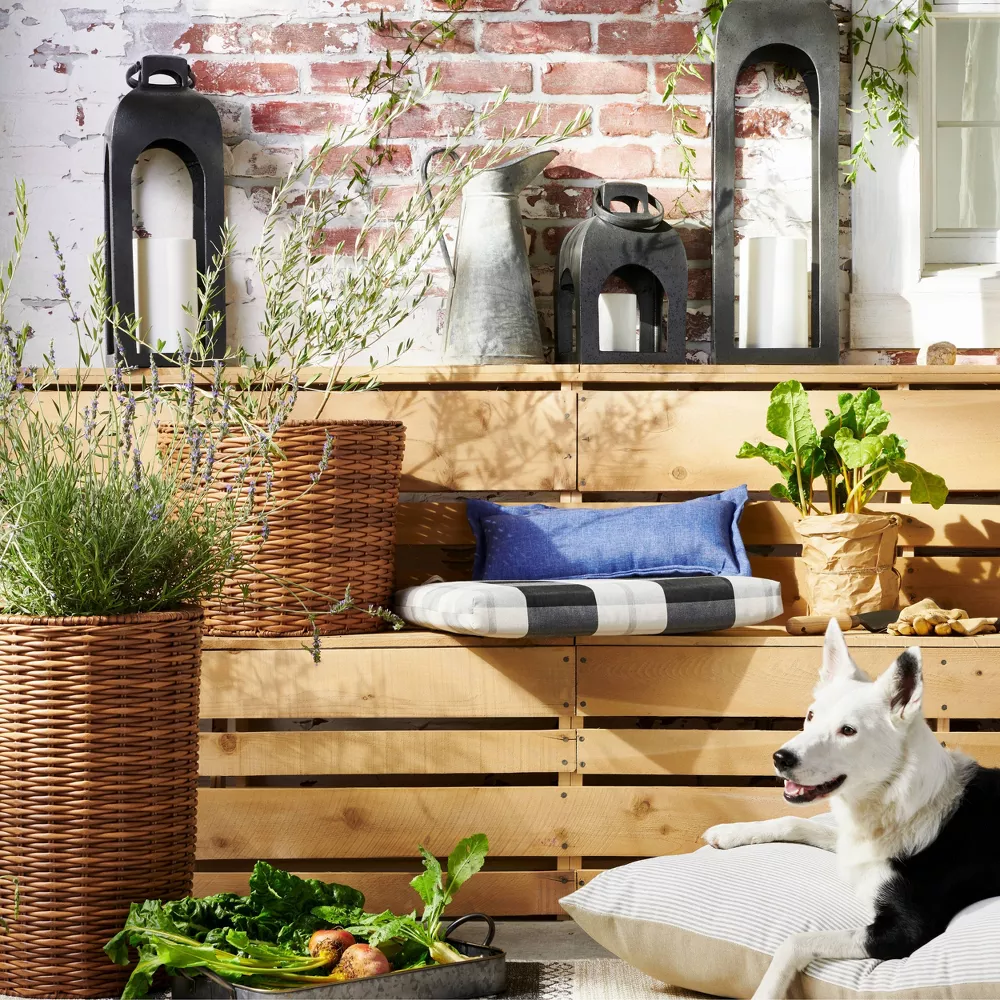 Shop these lanterns at Target.
Exterior Lighting
Integrating exterior lighting into your patio design can have multiple benefits, from boosting safety to spotlighting specific features of your outdoor room. Here are a few popular options:
Wall-mounted fixtures: These can be placed around your patio's perimeter, providing soft ambient light. Opt for energy-efficient LED bulbs to save on electricity costs.
Recessed lighting: If you have a covered patio, recessed lighting can be a sleek option for overhead illumination.
Spotlights: By strategically positioning spotlights throughout your patio, you can emphasize specific elements, such as plants or artwork.
Investing in a combination of these creative lighting solutions will not only make your small patio beautiful but will also create an inviting atmosphere for you and your guests to enjoy.
Innovative Plant Choices and Greenery
When it comes to decorating your small patio, including innovative plant choices and greenery can make all the difference in the aesthetics and overall vibe of your outdoor space. Here are a few ideas to spruce up your small patio with greenery, plants, potted plants, succulents, and cacti.
Hanging Gardens
Hanging gardens are a beautiful and space-saving solution for adding greenery to your small patio. By suspending plants from the ceiling or hooks on walls, you can maximize your patio's vertical space. Choose a variety of trailing plants, ferns, and flowering species to create a lush and eye-catching display. Don't forget to select appropriate containers that match the style and color scheme of your patio.
Potted Plants and Succulents
Potted plants and succulents come in various sizes and shapes, allowing you to mix and match different species creatively. Using a variety of pots and planters can add texture and visual interest to your patio. Some popular choices include:
Ferns: With their delicate, feathery fronds, ferns are excellent for adding a touch of greenery.
Succulents and Cacti: Adding low-maintenance succulents or cacti can introduce interesting textures and colors to your patio.
Herbs: Planting a small herb garden in pots not only adds greenery but also provides fresh herbs for your cooking endeavors.
Incorporate your potted plants and succulents throughout your patio – on tables, shelves, or even nestled among other decorative elements to create a unique and cozy ambiance.
Vertical Planters
Vertical planters, also known as living walls, make great use of limited space on your small patio while adding a refreshing touch of greenery. You can attach these planters to walls or fences or use a freestanding structure. Some options for vertical planter materials include:
Wooden pallets: Repurpose an old wooden pallet by securing containers or planting directly into the slats.
Wire grids or trellises: Attach plant containers to wire grids or trellises for a flexible and customizable vertical garden.
Fabric or felt pocket planters: These soft-sided planters are easy to install and can accommodate a variety of plant species.
To create a visually appealing vertical planter, select plants with contrasting colors and textures. Don't forget to choose species that suit your climate and sunlight situation. Using one or more of these innovative greenery solutions, your small patio will feel like the inviting getaway you're after.
Eye-Catching Design Elements
Colorful Accessories and Art
Boost your small patio's visual appeal by incorporating colorful accessories and art. You can easily transform your outdoor space by adding vibrant cushions, decorative lanterns, or eye-catching wall art.
Don't be afraid to mix and match colors, as this can create an inviting and eclectic atmosphere. Investing in durable, weather-resistant materials will ensure that your chosen accessories remain looking fresh and bright for a longer period. Be sure to protect your outdoor cushions using one of the four best fabric protectors.
Patterned Tiles and Textured Pavers
If you have a little bit of a budget to upgrade your small patio, consider using patterned tiles and textured pavers. These elements not only add visual interest but also provide a more comfortable walking surface.
You can opt for bold patterns to create a statement or choose more subtle designs to blend in seamlessly with your patio furniture and plantings. I love how Emily Henderson used a bold tile pattern to update her back patio.
Experimenting with different tile and paver materials can help you find the perfect combination of textures and patterns that suit your style and taste.
Outdoor Rugs and Area Rugs
Finally, consider incorporating outdoor rugs and area rugs to elevate your small patio design. They provide an additional layer of comfort while also adding some visual punch.
Outdoor rugs come in a variety of sizes, colors, and patterns to suit every space, making it easy for you to find the perfect rug that complements your patio's aesthetic. Just remember to choose rugs made from durable, weather-resistant materials to withstand outdoor conditions and prolong their lifespan.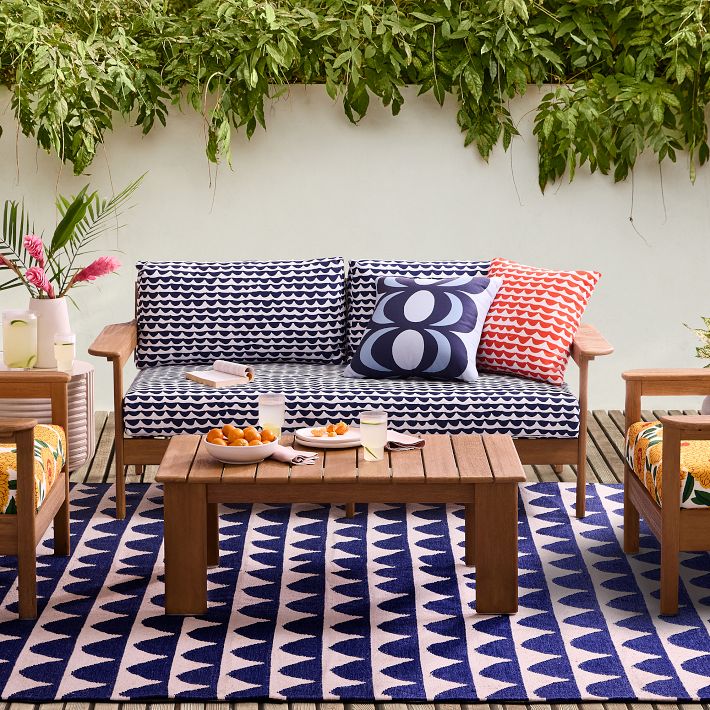 Shope this indoor/outdoor rug at West Elm
By focusing on these three design elements – colorful accessories and art, patterned tiles and textured pavers, and outdoor rugs and area rugs – you can create a visually stunning small patio that feels inviting and cozy.
Maximizing Privacy and Shade
Creating a sense of privacy and shade can greatly enhance the atmosphere and comfort of your small patio. In this section, let's talk about a few ideas to help you add privacy and shade to your outdoor living space.
Outdoor Curtains and Privacy Walls
Hanging outdoor curtains can transform your patio into a cozy and private haven. Choose weather-resistant fabrics and make sure to secure the curtains with tiebacks to avoid them being blown around by the wind. You can also opt for rolling shades so you can easily control the amount of light and privacy in your space.
Privacy walls, either pre-built or custom-made, can serve as a physical barrier against prying eyes. You can choose from various materials such as wood, metal, or lattice to create a stylish and functional privacy wall.
Pergolas
A pergola is a versatile and beautiful structure that can provide both shade and privacy. You can design your pergola with any combination of open slats, crossbeams, or lattice to customize the level of shade and privacy you desire. For even more shade, consider installing shade cloths, climbing plants, or hanging baskets as part of your pergola design.
Trellises
Trellises are an excellent way to create privacy and add an interesting design element to your small patio. Planting climbing plants or vines on your trellis will result in a beautiful, lush screen that will additionally provide shade and improve the overall aesthetics of your outdoor living space.
Patio Covers
Patio covers can provide full shade and privacy to your small patio. There are several types of patio covers to consider, such as:
Umbrellas: A simple and budget-friendly option. Choose a patio umbrella that can be easily opened and closed, as well as rotated to offer shade wherever needed.
Retractable awnings: This option allows you to adjust the amount of shade and privacy needed throughout the day.
Fixed awnings or canopies: These can be either attached to your home or set up as a freestanding structure. Consider selecting a style and material that complements the design of your house and patio.
By incorporating these ideas into your small patio design, you'll not only maximize privacy and shade but also create a cozy, inviting space where you can enjoy the outdoors.
Entertainment and Relaxation Features
Fire Pits and Fireplaces
Adding a fire pit or fireplace to your small patio can instantly create a warm and cozy ambiance for entertaining and relaxation. Fire pits come in lots of different sizes and designs, so you should have no trouble finding one you love. They're the perfect focal point for gatherings and conversations.
Last year I created a DIY firepit with my kids, and it completely transformed our backyard. Be sure to check that project out after reading this to get the tutorial.
Water Features and Fountains
Incorporating a water feature or fountain in your small patio can introduce a sense of tranquility and serenity. The soothing sound of flowing water can mask unwanted noises and provide a calming atmosphere.
When selecting a water feature, consider the available space and ensure that it complements your patio's overall aesthetic. A side table can also be used to place a tabletop fountain, creating an artistic element on your patio.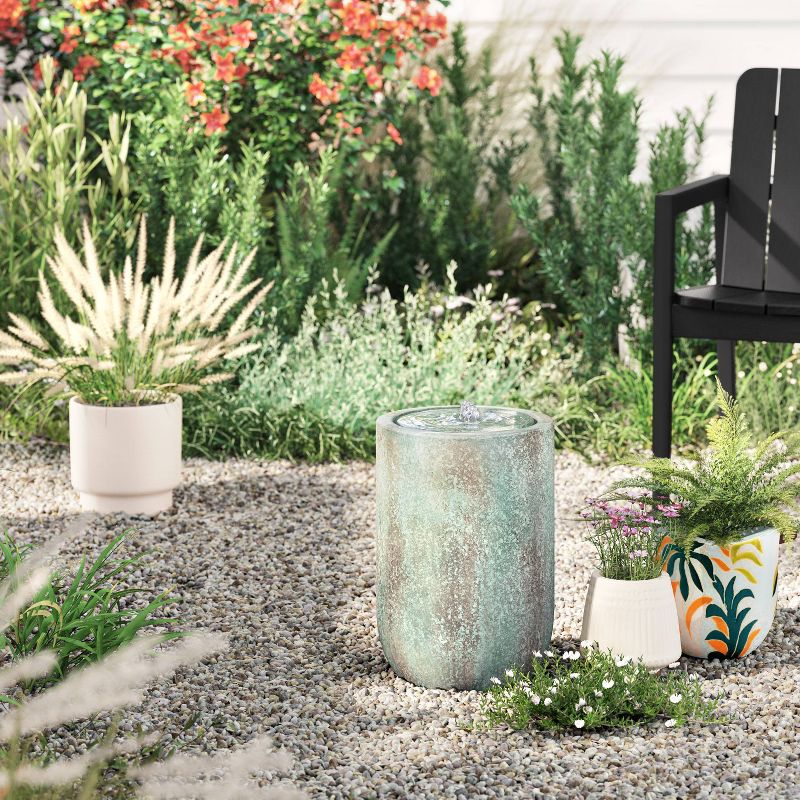 Shop this fountain at Target
Comfy Seating and Hammocks
Provide plenty of seating options for your guests to unwind and enjoy the outdoors. Incorporate a mix of lounge chairs, cushions, and maybe even a hammock for added comfort and relaxation.
For entertaining, consider installing an outdoor bar where you can serve drinks and have a dedicated space for socializing. Remember that no matter the size of your backyard, investing in comfortable outdoor furniture is essential for creating inviting, cozy, and relaxing spaces for you and your guests to enjoy!
Budget-Friendly Decorating Tips
Transforming your small patio into a beautiful outdoor space doesn't have to break the bank. Remember that with a little creativity and some budget-friendly tips, you can create a relaxing and practical outdoor area you'll love spending time in.
DIY Projects and Upcycled Ideas
When it comes to decorating on a budget, taking on DIY projects and upcycling materials can save you money and inspire your creativity. Here are some ideas:
Gravel Patio: A gravel patio can be an inexpensive yet attractive option. Gravel is easy to install, low maintenance, and available in various colors to match your style.
Pallet furniture: Pallets are often available for free and can be used to create custom furniture pieces such as sofas, chairs, and tables. Simply sand, paint, and add cushions to create your outdoor oasis.
Decorative DIYs: Create your own decorative elements by repurposing materials like glass jars or wine bottles into planters or lanterns.
For more ideas, check out this article on budget-friendly patio ideas.
Affordable Furniture Options
When choosing furniture for your patio, focus on quality, comfort, and price. Consider these budget-friendly ideas to furnish your outdoor space without overspending:
Shop sales: Keep an eye out for sales on patio furniture at stores and online. End-of-season sales can offer some of the best discounts.
Second-hand: Search local thrift stores, garage sales, and online marketplaces for pre-loved outdoor furniture in good condition.
Mix and match: Don't be afraid to mix and match different furniture styles for a unique, personalized look. Combining pieces from different sources can help you stay within your budget.
Repurpose: If you have indoor furniture you no longer need, you can paint indoor furniture for outdoor use using the steps I describe in that post.
Remember, when decorating your small patio, focus on the details that bring your space to life. Use your creativity, explore DIY projects, and be patient in finding affordable furniture to create an outdoor oasis that suits your style and budget.