Bland Dining Room Turned Cozy Home Library: Before and After
When we first moved into our house, this room was a dining room. Very basic: small, square, with a generic chandelier and plain white walls.
We didn't really need a dining room so we decided to turn it into a small home library!
In this post, I'll show you how we renovated our unused dining room into a cozy home library and share some of the tips and tricks I learned along the way.
Pin for later!
This post contains some affiliate links for your convenience. Click here to read my full disclosure policy. Thanks for supporting Bloom in the Black!
The Before
To begin, let's check out the before photos of when this was a "dining room":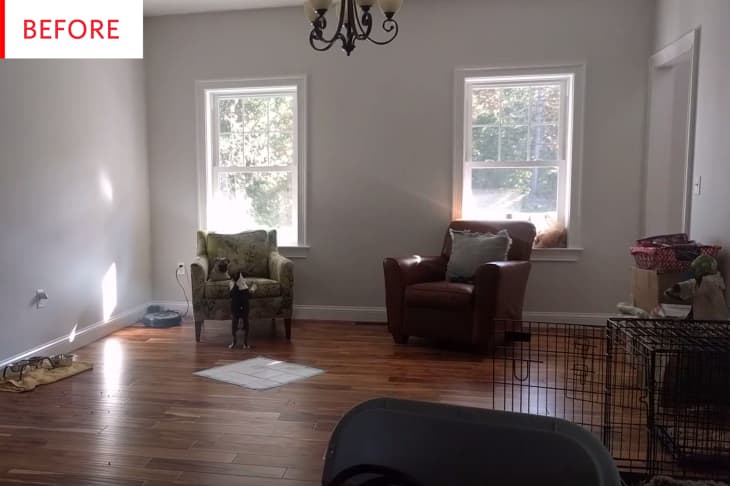 This dining room was fine, but really, just a shell. There was nothing about the layout that prevented it from being used as something else.
What our family really needed was a sitting room without a T.V. A place to read, hang out, and chat. So we decided a home library would be the perfect solution.
The During
Here's a little bit about the steps I took to redefine and design the space, along with a few tips and ideas that you might find helpful if you decide to create your own reading room!
Adding a Bookcase
The first thing we did was design a floor-to-ceiling bookshelf. What's a library without a bookshelf, right?
This bookcase actually has a secret passageway! For dogs. To read all about that project, check out this post.
A lot of the reading we do is on a screen, so we really just needed a reading room with the cozy vibe of a library. I mixed some books with some decor to fill our beautiful blue bookcase to create the mood we were after.
The takeaway
You can still have a home library without a TON of books.
Creating the Layout
Laying out furniture can be seriously tricky. I struggled with arranging furniture around my corner fireplace for AGES before nailing it.
If you're struggling with an awkward living room layout, watch this video for 5 furniture arrangement ideas:
I knew we'd use the room mostly to sit and read or to sit and talk, so I knew exactly what furniture we needed in our library:
I like to sketch out where to hang artwork and possible furniture arrangements before committing in real life. I use Photoshop but a good old pencil on a printed photo from your phone works just as well!
The takeaway
When laying out a room, start with function. How do you imagine you'll use the room? What types of furniture support those activities?

Make a list of those pieces then, starting with the most important piece, sketch out some ideas until you land on an arrangement that works.
Changing the Wall Color
White walls just aren't my thing.
A cozy home library really benefits from deep, dark colors. We're going for drama with a touch of old-world charm. White just doesn't deliver!
I opted to use French Beret by Benjamin Moore (a dark charcoal navy) to complement that blue bookcase, which was painted in Night Star by Pratt and Lambert.
Covering those white walls with that almost-black paint took 5 coats!
Drama takes effort.
The takeaway
Don't be afraid to experiment with a more dramatic palette. A classic home library should lean a bit dark and moody.
The After
After the paint was dry, the art was hung, and the accessories were lovingly placed, the small home library of my dreams was finally complete!
The Styled Built-In and a Touch of Leather
Built-In Sconces // Art // Chandelier, similar for less // Leather Chairs
Is it just me, or does a moody library require leather? These leather chairs from Restoration Hardware are showstoppers. They've moved from room to room over the past year, just looking for their forever home. But this room was doing neither of these stunners any justice.
The Sofa and the Art
Do I start with the sofa or the art? Both are spectacular. Painting the walls black was the best choice I have ever made in my life. The sofa was fine against the whitish walls but is positively sumptuous with the black. And those beautiful ladies against that velvety dark wall? Stop. Just stop.
Coffee Table // Sofa // Art above the sofa, Woman With Book // Art above the sofa, Woman in Bath // Industrial task lamp // Green Boucle Pillow // Frames
The Lamp and the Layout
I mentioned in week 3 that I was having issues with symmetry and furniture arrangement and figured out that adding some height and angles to balance the gap to the side would solve a lot of problems. I found this super cool industrial floor lamp — perfect height, perfect vibe, perfect angles.
Sofa // Art above the sofa, Woman With Book // Art above the sofa, Woman in Bath // Industrial task lamp // Green Boucle Pillow // Frames
In that same week, I was all angsty about the coffee table and finding the right one. I have a secret… this isn't the real coffee table. I stole it from another room in our house because the real one hasn't arrived yet. Honestly, I haven't even received an update. I'd be nervous, but it's a pretty reputable company so I have high hopes that it will get here sometime in the next month or so. Frustrating? Yes. Tragic? Hardly. I doubt anyone would realize this wasn't "the one" unless I mentioned it to them.
And the layout! I initially had something completely different in mind but the coffee table conundrum (and the ever-present deadline) made me think way outside the box, throw out ideas I was initially attached to, and come up with something completely different and so much better. This bar cart is the perfect accent for a moody library:
Bar cart (backordered), similar // Art above the bar, Woman on Lily Pad // Frame // Vintage style rug
Please pause for a moment to take in this rug….
Coffee Table // Sofa // Art above the sofa, Woman With Book // Art above the sofa, Woman in Bath // Industrial task lamp // Green Boucle Pillow // Frames // Chandelier, similar for less // Leather Chairs // Vintage style rug
It's so so pretty. Every person who has visited my house since we got it has asked about it. The rug is super soft and the wear looks very realistic (faux vintage).
The Vignettes and the Wallpaper
The great thing about my first ORC challenge has been that a big part of the room was already done (the built-in), but I did take the liberty of making updates to some of the shelves…
If you need help in that department, I have a whole post dedicated to how to style bookcase shelves.
And how about that wallpaper?? It came out just how I'd hoped. I wanted to get a shot of it with the dogs lounging in the den but they were being punks and I had to banish them to another room while I took photos. The coffee table was originally styled out with a lovely charcuterie board but Franklin kept (aggressively) stealing the food. So yeah, the wallpaper design is fitting. It was inspired by the dogs tearing apart all the pillows and beds we give them. I call it Puppy Pillow Fight, ha.
Part of the 5% that remains undone is the doors to the den. In week 1 of the challenge, the dogs were playing with Matt, and Franklin ran headlong into one of the doors and split the frame in half. SMH. The new doors are almost done but haven't been installed yet so we remain doorless for now.
Close-ups
And because the details are everything…
Sofa // Industrial task lamp // Vintage style rug // Side Table, similar for less
Bar cart (backordered), similar // Art above the bar, Woman on Lily Pad // Frame // Vintage style rug
This was a fabulous experience and now I get my dreamy reading room to enjoy with my family over the holidays. I hope you enjoyed this dining room to home library transformation as much as I did!