Best Paint Colors for a Home Office With No Windows
It can be hard to find space for a home office.
Sure, you could set up an office in your bedroom, but ideally, it would be a separate space.
But what if the only available space doesn't have any windows? What color should you paint it?
Whether you currently work from home or want to set up a home office, considering the paint color is critical when there are no windows in the space. The color paint you use on the walls can affect the overall mood of the room — your mood too — and possibly affect how productive you feel in the space. So what's the best color to paint a home office with zero natural light?
The best overall paint color for a home office with no windows is a soft pastel or mid-tone. Contrary to popular belief, white is a poor color choice for a room with no windows as it can appear dingy and cold in an already light-starved room. Dark colors can be used as well to create a cozy or traditional mood. Avoid vivid colors as they have a tendency to look garish without natural light to tone them down.
These popular color combinations are all perfect for a home office with no windows:
Warm neutrals – Try mixing neutrals like beige, cream, and taupe with a light yellow undertone. Accent with textured pieces in natural, woven materials.
Browns – Brown is back for 2022! Try using a variety different tones, shades, and textures of brown. Rich chocolate-y brown paint on the walls, a well worn caramel leather office chair, and a warm wood desk will do the trick.
Light blues and greens – Soft pastels such as these are a tried and true paint color option for a room with no windows. Try a soft chambray blue with a healthy dose of (fake) plants and gentle accent lighting.
No matter what color you choose, adding artificial light in the form of lamps, overheads, and accent lighting will be key to making any color look its best.
In this post, learn what colors work best for a home office with no natural light, how different colors affect our mood and productivity, and how to best use lighting to enhance your space.
What Paint Color To Use In A Windowless Office
When choosing a paint color for a room, there are many factors to consider. Especially for one with no natural light.
Decide On The Desired Atmosphere Of The Office
First, think about what atmosphere you'd like to create. What colors set the right mood for you personally? Are you after calming and cozy or fresh and airy?
A critical aspect in picking paint colors is that you actually like the color. Don't just use a color because it "works." Almost any color family can be made to work in a low-light room with the right adjustments, so choose a color you like looking at and being in.
Warm Vs Cool Paint Colors
In order to create the atmosphere you're after, consider the effect of warm and cool colors on your room.
The table below gives a general guide to warm vs cool colors and how they impact a space.
Warm vs Cool Colors
Warm
Cool
Color family
Reds, yellows, oranges, peachy pinks, brownish greys
Blues, greens, purples, purplish pinks, bluish greys
Vibe
Energetic, Positive, Creative, Lively
Tranquility, Productivity, Focus, Freshness, Clarity
Best Use
Making a large room feel intimate
Inviting lively conversation
Adding warmth to sterile room
Making a small room feel larger
Inviting relaxed focus
Toning down bold furniture
If your home office doesn't have any windows to let light in, color can bring some life into the room. Both warm and cool colors will work as long as the color represents the mood you wish to create in your space.
In general, warm colors on the wall create a perceived intimate space and an atmosphere of creativity, alertness, and upliftment, which can benefit a home office. While cooler colors on the wall create the perception of a larger open space and a sense of peace and focus.
Consider Using more than one Color
You don't have to paint your wall just one color. Creating an accent wall is a great way to add interest to any home office, even with no natural light.
Here's an example of an accent wall using several cool colors (that doubles as an amazing Zoom background!):
You can combine warm and cool colors to create a balanced look and feel that benefits your workspace. However, I'd recommend avoiding using too many colors; just pick a few.
A Resene color consultant shares, "Office and workspaces should have a comfortable undertone, with a dash of color for stimulation and increased productivity."
Source: https://www.resene.co.nz/homeown/use_colr/Colours-in-the-work-environment.htm
Diving Into Specific Colors For Your Office
Each color has different meanings and qualities to invoke a particular atmosphere in a room. When considering what paint color to use in your windowless home office, it's helpful to be aware of what different colors represent and their impact on a room. Now that you've learned about warm and cool colors let's dive a bit deeper and discuss a few popular colors for painting your office and what atmosphere they can create.
It's vital to remember that the intensity of the color will determine the impact. For example, bright orange creates an entirely different vibe compared to a soft, pale orange paint. The table below shows popular paint colors for office walls. The results from this table can assist you in deciding what color paint you use on your office wall based on the atmosphere you want to create.
| Color | Atmosphere Created |
| --- | --- |
| White | Light, Clean, Refreshing, Simplicity, Coolness, Hope |
| Green | Harmony, Growth, Fresh, Relaxed, Healing |
| Blue | Peace, Calm, Integrity, Confidence |
| Red | Excitement, Urgency, Passion, Energetic, Alert |
| Purple | Luxury, Royalty, Wisdom, Vision |
| Yellow | Uplifting, Warmth, Cheerful, Friendly, Joyful |
| Orange | Creativity, Enthusiastic, Endurance, Vibrant |
| Pink | Kindness, Loving, Gentle, Nurturing, Feminine |
| Brown | Warmth, Grounding, Strength, Comfort |
| Gray | Neutrality, Conservative, Authoritative |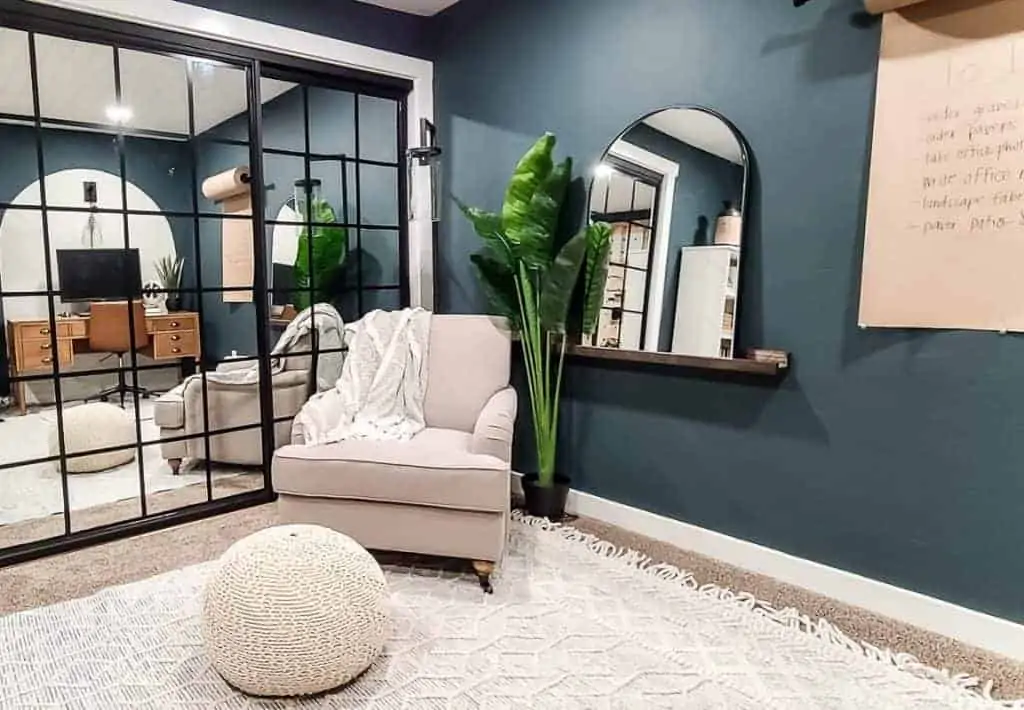 Frequently Asked Questions
How Do I Maximize The Lighting In A Room With No Window?
In a windowless room, the best way to maximize light is by using a variety of overhead, accent, and task lighting and using mirrors to bounce that light around the room. No wall color will create the effect of light but avoiding stark white and bright colors will help to avoid a sterile, garish, or dingy look.
What Lights Should I Avoid In A Windowless Room?
Avoid fluorescent lights as they will make a windowless room unbearable. Have you seen Severance? If so, check it out and you'll see what I mean! Flourescent lights can also be hard on your eyes and trigger migraines for those susceptible to them.
Final Thoughts
Overall the best paint color for a home office with no windows is a color that you feel good working in. If you avoid pure whites and vivid colors you can make your favorite work with just a few small tweaks and tricks. Know the atmosphere you want to create in the room, use the tips from this article, and have fun designing the windowless workspace of your dreams!
Want more home office inspiration? Here's the full collection of Bloom in the Black home office DIYs and shopping guides. If you're interested in seeing a future article on a particular topic, shoot me an email and I'll add it to the list!