Plans for the Ultimate Family Room
Finally! An update on the big basement renovation. I've pulled together some ideas for the family room, or as I like to call it, The Ultimate Fam Cave.
We are a tentative go for the whole enchilada incarnation of the finished basement (we should get final confirmation this Wednesday!).
This post really deals with the left half of the family room. I'm still on the fence with how we should use the rest of the space. The dotted line is an imaginary boundary that will be marked by the back of the couch
THE GENERAL PLAN
I'll let you in on a little secret: we hardly ever go out. Truly. We aren't people who like, "do things." What we do love to do though is watch movies. Matt was actually a film major in college and I was a projectionist at a local movie theater so the whole foundation of our fledgling relationship was built on watching movies upon movies upon movies.
We have dreamed of creating an epic home theater for years, and this remodel will be the realization of that dream. Squee!
That said, this room isn't just about us. As you well know we have two little girls so it has to be fun and cozy for the whole family. So rather than a Man Cave we are constructing a Fam Cave. See what I did there? Wordplay is my favorite.
What does this mean?
Large cozy couch for snuggling in on family movie night (or day, we aren't picky).
Ottoman to rest our feet for those movie marathons BUT has to also work as a coffee table. Because, #snacks.
Durable materials and patterned fabrics that can be easily cleaned and/or hide stains.
A balance of masculine, feminine, and a touch of whimsy.
Crazy good sound system that is also protected from curious grabby kids and their friends.
So here's what I'm thinking…
This post contains some affiliate links for your convenience. Click here to read my full disclosure policy. Thanks for supporting Bloom in the Black!
Pin for later!
FAMILY ROOM SOURCES
1 // Leather Sofa
2 // Abstract Digital Print (retired), Available Abstracts
3 // Striped Rug
4 // Black Framed Rattan Chair
6 // Ottoman With Wooden Bridge
THE OVERALL FAMILY ROOM VISION
Matt and I are in agreement that dark walls are the way to go to get that cozy, "snuggle in and pass the popcorn" vibe. I'm leaning heavily to Salamander by Benjamin Moore. Every time I've seen it for the past few years I'm like, "Ooooh, what's that color?" and it's always Salamander. In particular, I love how it looks in Ashley's den (The Gold Hive).
Cozy Seating
The giant, deep, and squishy leather couch we have had for years (a Craigslist score at 75% less than it currently retails for!) is the furniture anchor for the room. I provided a link to that couch but it is hella expensive.
I did a round-up of affordable leather couches, most with free shipping! There are so many good ones out there that fit almost any budget. Or stalk Craiglist. It worked for me!
Cost aside, it's held up remarkably well and leather is the ultimate family room couch material. Especially if you go for distressed leather. Scratches can be buffed away and spills mop up like magic. Dogs like to chew on it though so if you have a puppy, hold off making a purchase until that phase passes. Or keep a very close eye.
We found a huge ottoman with a wooden bridge (on super sale) to rest our feet and our drinks. It's white, so we are going to ask Matt's mom to make a slipcover or two in a more realistic fabric. I'm thinking lots of pattern to hide the inevitable spills that don't wash out.
While the couch is gorgeous and practical, it is visually heavy and extremely… brown. And masculine. The ottoman is also very large and blocky. Since we want dark walls, balancing all this heaviness with some lighter, brighter things is a must for the vibe we are going for.
Lighter, Brighter Details
One of the things that I plan to do is curate a really pretty collection of ethereal artwork in dusty pastels, golds, and maybe a bit of black to ground it. Something like this gallery wall from Minted: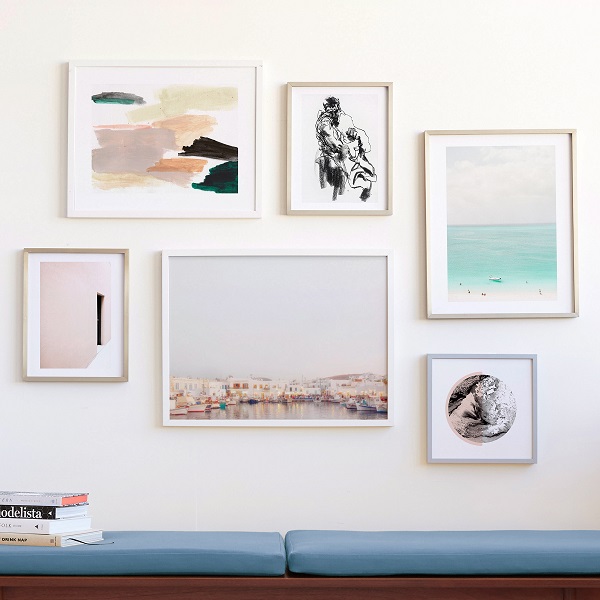 The art paired with a modern striped rug in similar tones will keep the family room from skewing too "cigar club," as well as these light yet grounded rattan chairs we'll use for accent seating. I'll need to poke around for some cool pillows and throws, but I like to save that for the last step. Accessories can help course-correct if you end up too far in any one direction on the spectrum you were aiming for.
THE BIG STUFF AND HOW WE ARE FIGURING IT OUT
OK, so that was the gist of the decor, but there are some big overall design things at play in the family room:
The sound system
The media wall
The electrical space planning
The Sound System
Like I said, this room has been in the works for literal years. The sound system is freaking awesome but… huge. HUGE. The contractor, electrician, and woodworker all actually laughed out loud when they saw the subwoofer. I like to think I am a cool wife and I get that not everything needs to be perfectly pretty, but holy hell. Working around these bad boys is a project unto itself.
Luckily the speakers themselves are actually really pretty in a retro sort of way, but the subwoofer and the box that powers it all are just giant black boxes.
We've turned this one around in our heads every which way. Hiding it in a closet (too far from the power station), using it as an end table (ew): neither made much sense. A subwoofer has to make contact with the floor to work properly so a ready-made console was out (plus, I don't think they even make consoles that big).
Once again, we are turning to our trusted woodworker Nick Sousa to create something one-of-a-kind. He killed it with our library built-in plus hidden dog den so we know we are in good hands. I'll share the final design once we solidify exactly what we are doing, but essentially, we are creating a garage of sorts that will hold the less attractive components and be hidden behind sliding doors and flanked by decorative shelves. Did that make sense? It needs its own post with sketches so stay tuned.
The Media Wall
This is the visual focal point of the room so we don't want to screw it up. The console will go here along with the T.V. and the retro-looking front speakers. Things could start looking crowded real quick as the room is relatively narrow. I'm thinking black shiplap behind the big black T.V. will help everything recede a bit when we aren't watching a movie and will allow for a distraction-free viewing experience when we are. It may be out of budget so TBD. Shiplap is icing, to be honest, and easy to pass on if needed. I like having easy to cut line items, ha.
The Electrical Planning
It's been interesting trying to plan out the console in relation to the T.V., in relation to where we need electrical, in relation to where all the furniture will go, etc. I'm not a trained interior designer so the nitty gritty space planning of an entirely new build is something I am still learning as I go. We have a team of trusted professionals we always work with though, so they've been invaluable for advice. This will be our third project with Matt Palmer of MMP Construction and he really is the best. I cannot stress enough how important it is to work with people you actually like and can rely on.
So that's where we stand as of right now. This post was a little longer and full of more boring detail than I intended, but I wanted to set the stage for the content to come. Lots of progress posts, details on materials, product round-ups, and of course, a big room reveal to look forward to!
Tell me: what would you like to hear about? What would be helpful? Let me know in the comments below!