The 15 Most Beautiful Bud Vases (2022 Edition)
When it's not quite spring but it's not quite winter, the itch for flowers is real.
I'm terrible at large floral arrangements but a tiny one with a few stems? I can handle that. Plus? It's more affordable.
Therefore, I like to keep a few bud vases handy for those days when I need a little spring in my life.
In this post, I'm sharing the 15 best (and most beautiful) bud vases I found online. I'll also answer a couple of common questions you may have about bud vases and how to arrange flowers in them.
Pin for later!
What is a bud vase?
A bud vase is a small vessel intended to hold between 1 and 3 floral stems. These vases range in height from 3″ – 8″ tall and they generally have a narrow opening to keep the small number of stems upright.
How much taller should the flowers be than the vase?
The height of the flowers in your bud vase should range from 1 1/2 – 2 times the height of the vase itself. As you grow more confident in your arrangements you can certainly experiment, but this flower to vase height ratio is a good rule of thumb to start with. If you're using more than one stem in your arrangement, be sure to vary the height of your flowers.
Although sold separately, this collection of bud vases comes in 8 different colors and sizes so you can quickly and easily achieve the look of vintage bud vases collected over time. The individual vases are very affordable, although to purchase the whole set would be a bit of an investment. Kick start the collection with two or three and go from there!
Another collection that is sold individually, these bud vases make a dramatic statement in a minimalist setting. This style would also play well in a modern farmhouse scattered throughout a built-in.
Learn more about styling a built-in and the value of repetition.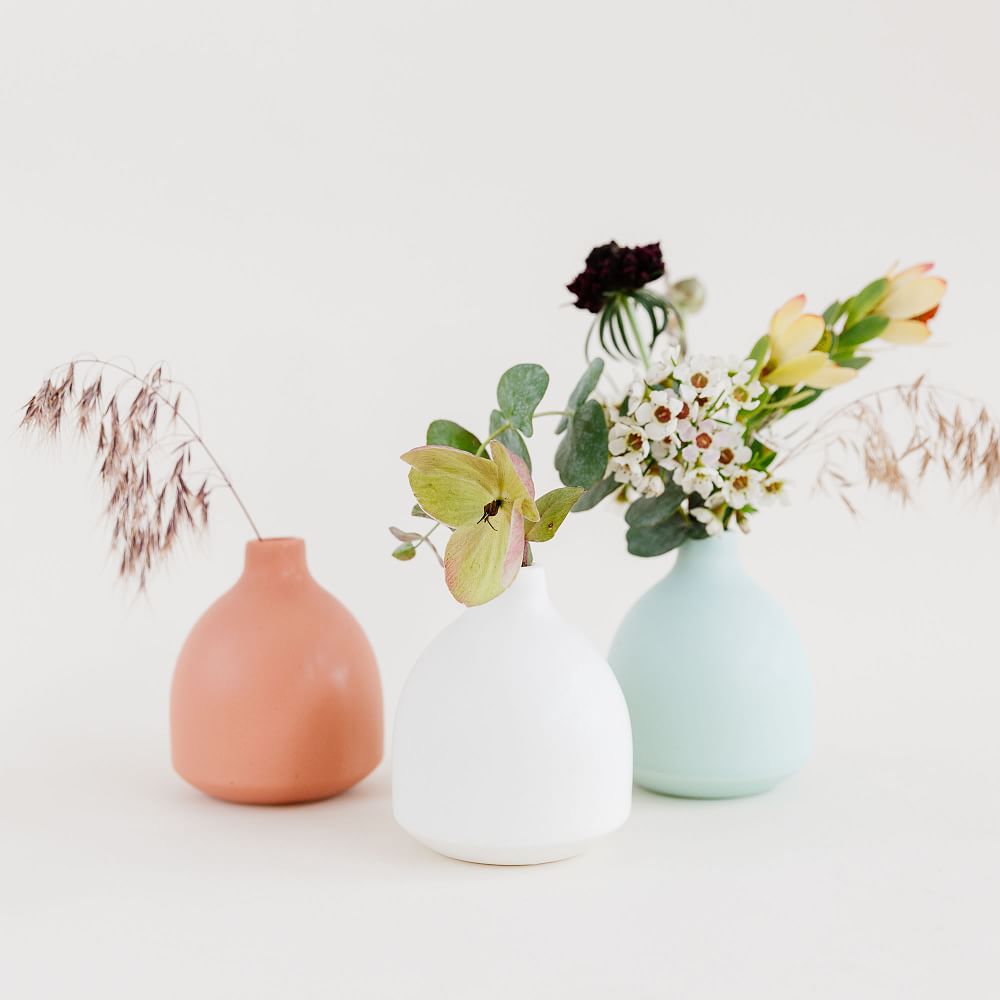 The clean aesthetic of this bud vase really allows the stems to shine. Though available in three colors, I'm personally drawn to the soft peachy terracotta version. Imagine it with a single bold white bloom. Perfection.
Many of the vases in this collection are too large to be considered a bud vase, but there is a sweet 5.5″ round vase that is perfect for a classic or coastal vignette.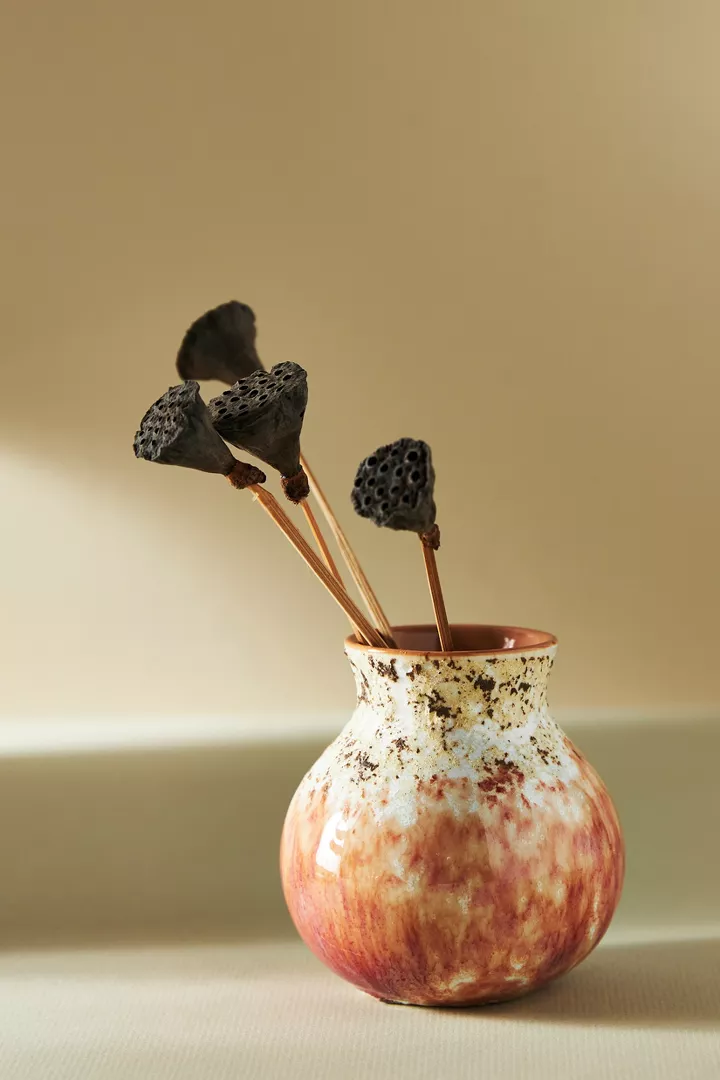 The hand-glazing on this artsy bud vase makes each piece one of a kind. I love the warmth of this piece and think it would be amazing with a few wildflowers tucked in.
This gold and glass piece is cool because it groups three separate bud vases to create a more contemporary statement. The unique design allows to to double as a propagation station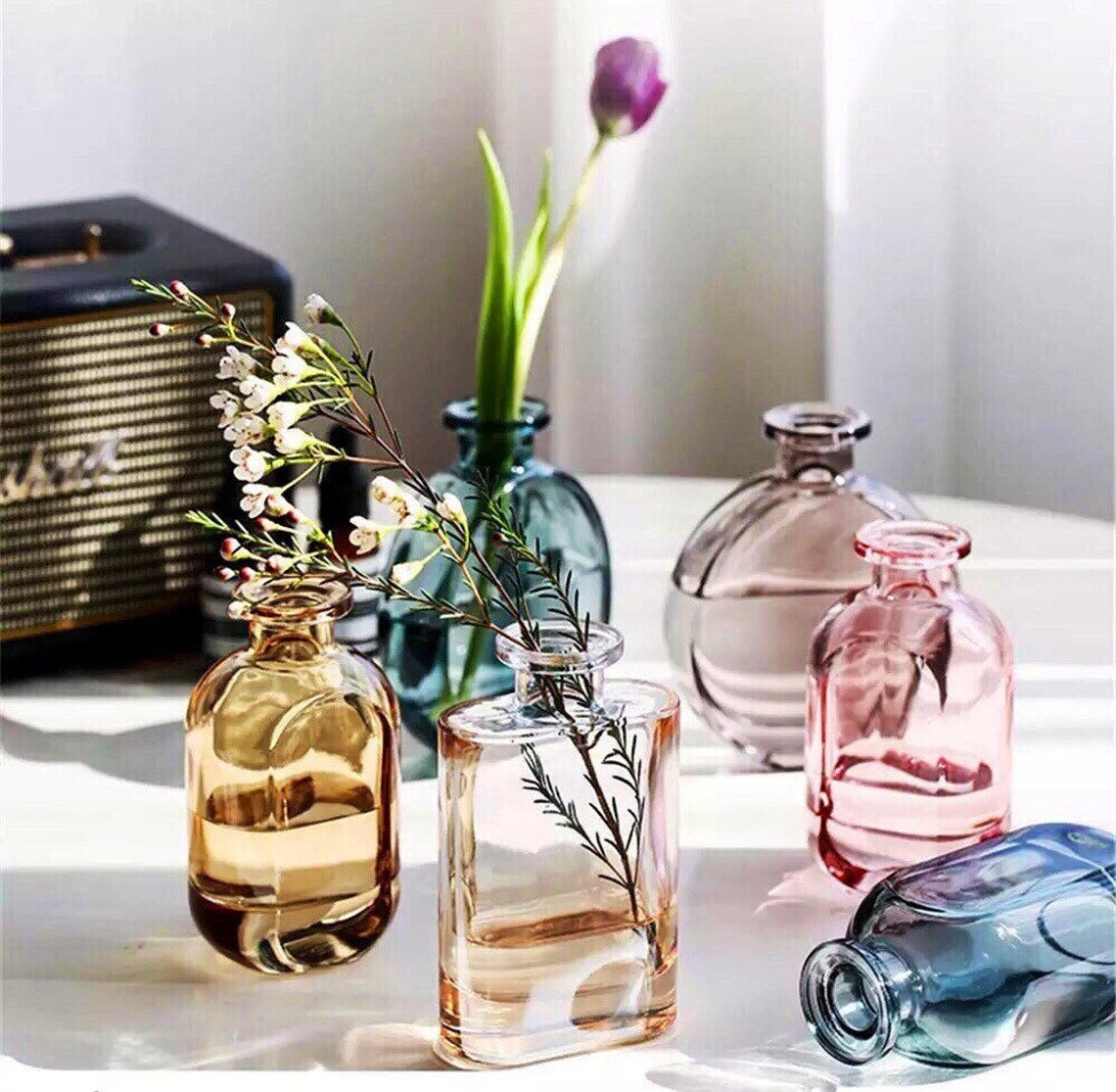 This vintage-y set of bud vases has the delicate look of stained glass. They can be purchased either separately or as a full set so you have the option to build a custom collection. These are perfect for delicate stems in quiet colors.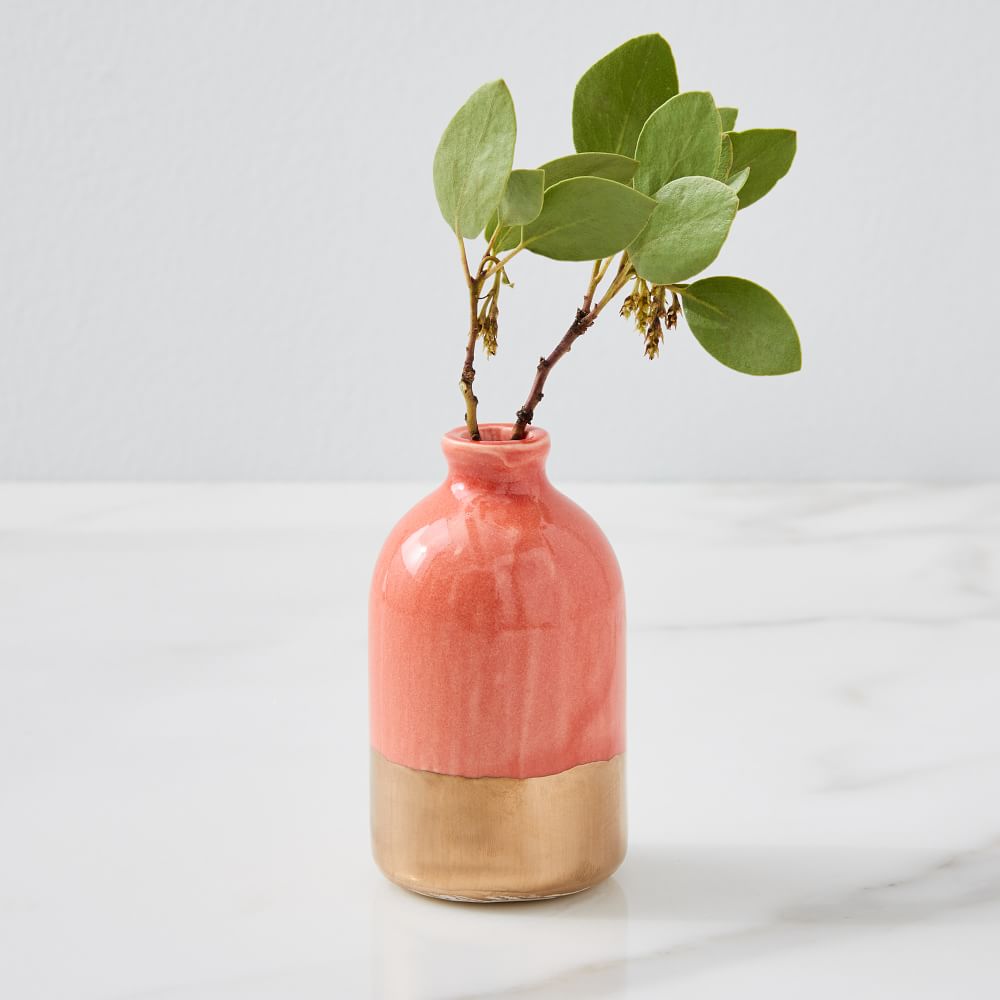 This feminine bud vase is a vibrant coral with a hit of glamourous gold. I love this for a maximalist home since the bold color scheme can really hold it own — with flowers or without.
These earth tone stoneware bud vases are a little splurge-y but the craftsmanship is lovely. These are the pieces you hold on to for years. If the full set sends you into sticker shock, you can get just one or two pieces at a time.
This set of 24 clear bud vases is PERFECT for a wedding or large party. At only $30 for the full set of 24, you can spread lovely vignettes around the entire venue for not a lot of money. Plus if they accidentally get broken during the festivities? No big deal. The simple clear glass design allows for flowers of all colors and styles.
This amber glass bud vase is cute and classic. Pop a small leafy twig in there for the perfect little statement on your entryway table.
Unsure of how to style your entryway? This post has you covered.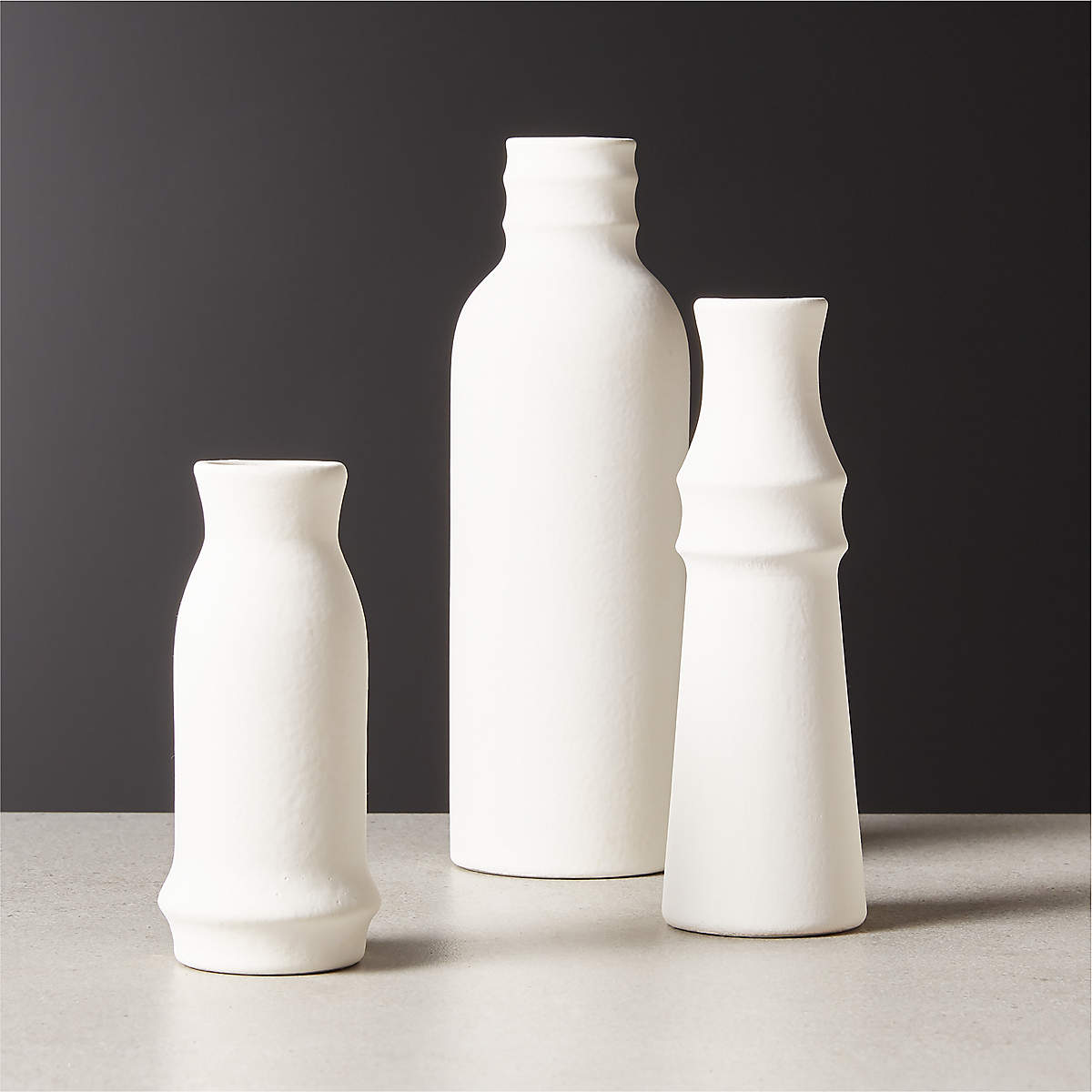 It's the shape that makes these matte white bud vases special. Each one could stand alone as its own little sculpture. Or, try a single showy stem to create a design moment.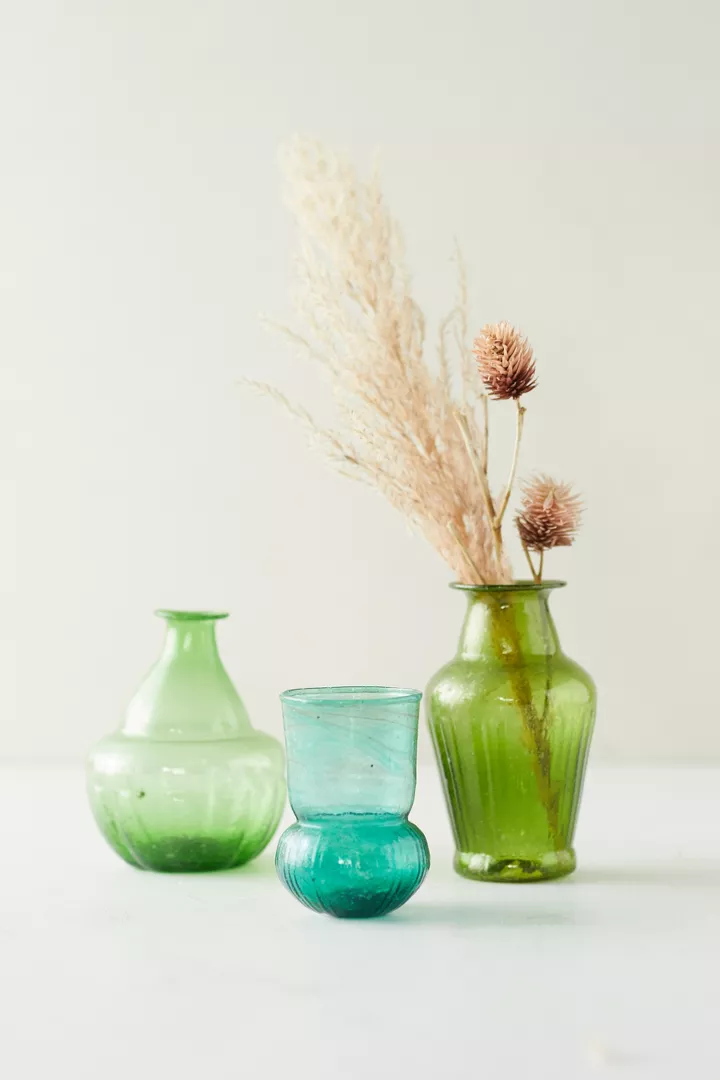 This petite set of three is crafted from recycled glass. Group these on a mantle for a pretty spring refresh. Call me crazy, but wouldn't baby's breath be kind of cute in these?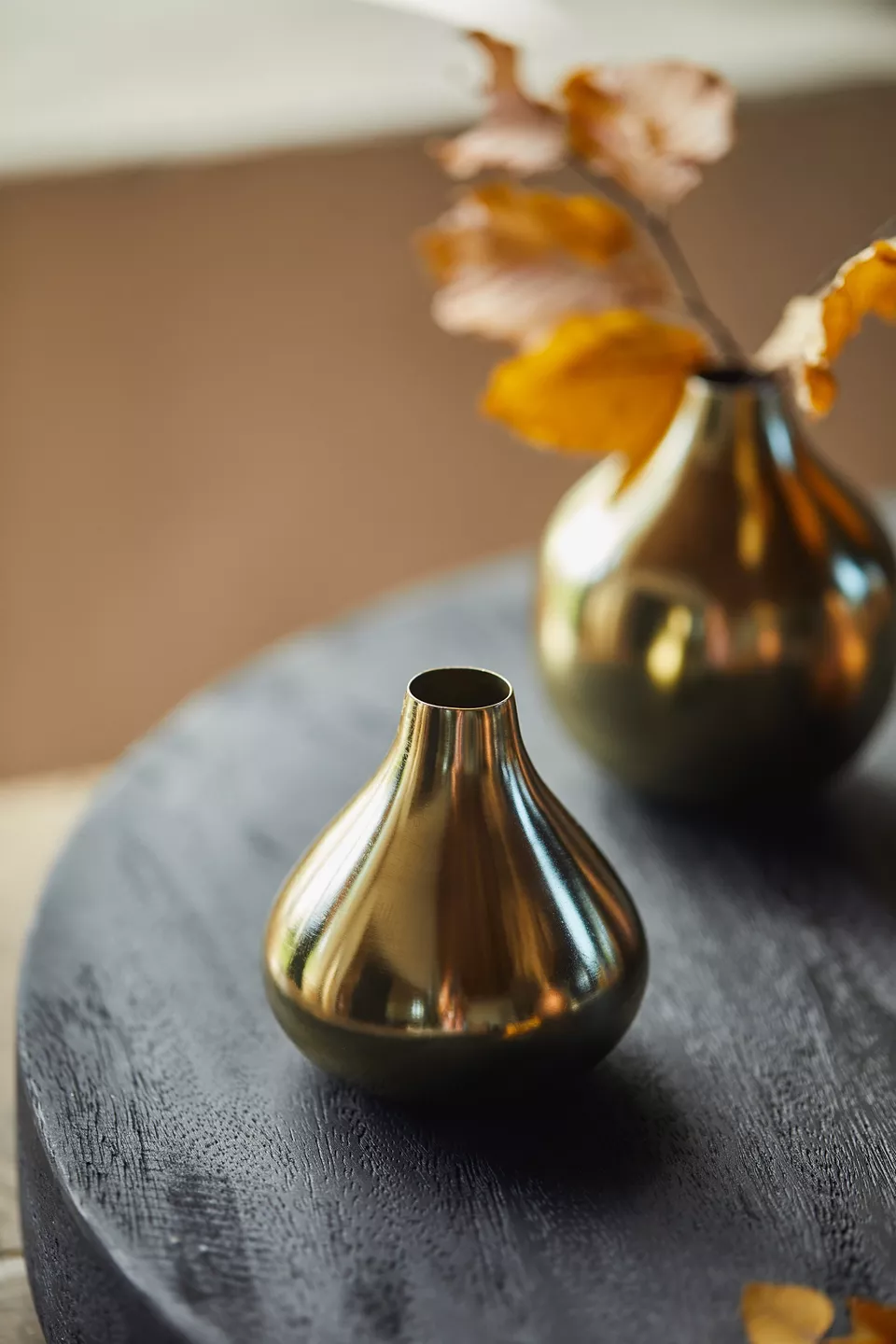 I love all things brass and this sleek little vase would make a gorgeous accent to a side table. This would be especially beautiful in the fall, but still works year-round.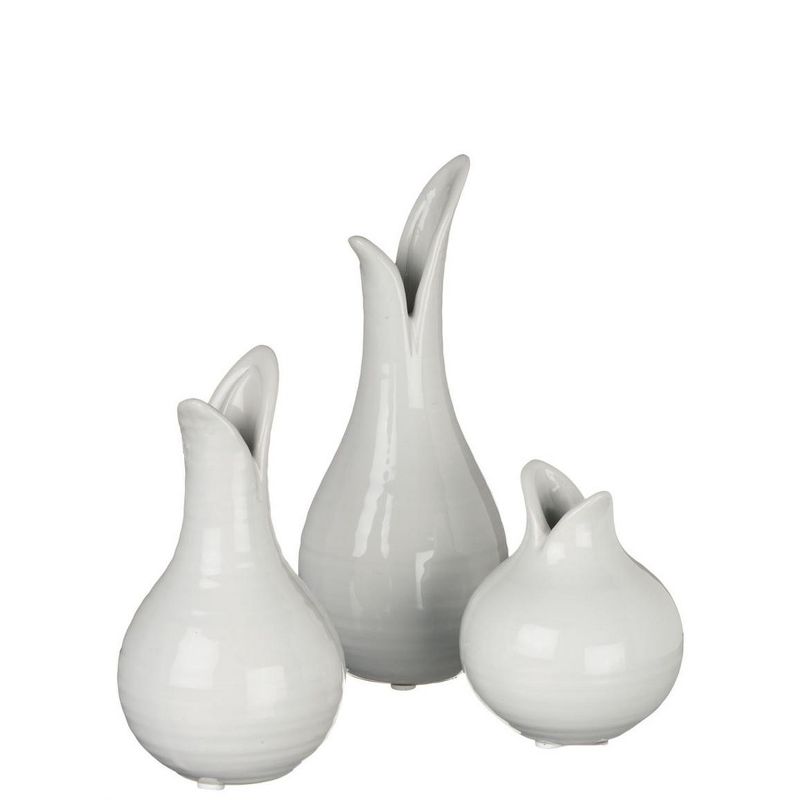 With a shape reminiscent of a tulip, these small vases are pretty enough to display on their own. But add a small dried floral stem? We're talking next level.
Want more? Here's the full collection of Bloom in the Black shopping guides. If you're interested in seeing a future shopping guide on a particular topic, shoot me an email and I'll add it to the list!
Click Image to Shop