7 Affordable Leather Couches for 2023 (Most With Free Shipping!)
UPDATED FEBRUARY 2023
As promised, I've scoured the interwebs and found what I consider to be the seven best affordable leather sofas out there. And… wait for it… most have free shipping!
I shared a bit about our ultimate family room plans a little while ago. My aim was to make our home super cozy. The mood board nailed that feeling, and in it, I showed a beautiful leather sofa that we already own. I've had tons of people ask me about it and I squirm a bit when I share the source. It retails for over $5,000. Eek, I know, right?
If that's your budget, this sofa is totally worth it, but I imagine most of us would prefer to spend a bit less…
We were fortunate enough to score ours off Craigslist for an unheard of $1900. TIP: If you are ever drooling over a brand or a thing you think you can't afford, pop over to Craigslist every now and again and do a quick search for the brand. It can pay off big time.
All that said, I thought it would be helpful to round up the best affordable leather sofas for you guys. It seems you agree, as it was the number 1 post last year, according to you!
Pin for later!
This post contains some affiliate links for your convenience. Click here to read my full disclosure policy. Thanks for supporting Bloom in the Black!
Affordable Leather Couches
Once I started researching, I was amazed by how many incredible options are available! All of these are under $2000, and five offer free shipping. I don't know about you, but I've become, perhaps unfairly, accustomed to free shipping on basically everything. When I have to pay for shipping on a piece of furniture, I always balk. Even if it's cheaper than another alternative I'm looking at. It's ridiculous, but those are the ABCs of me.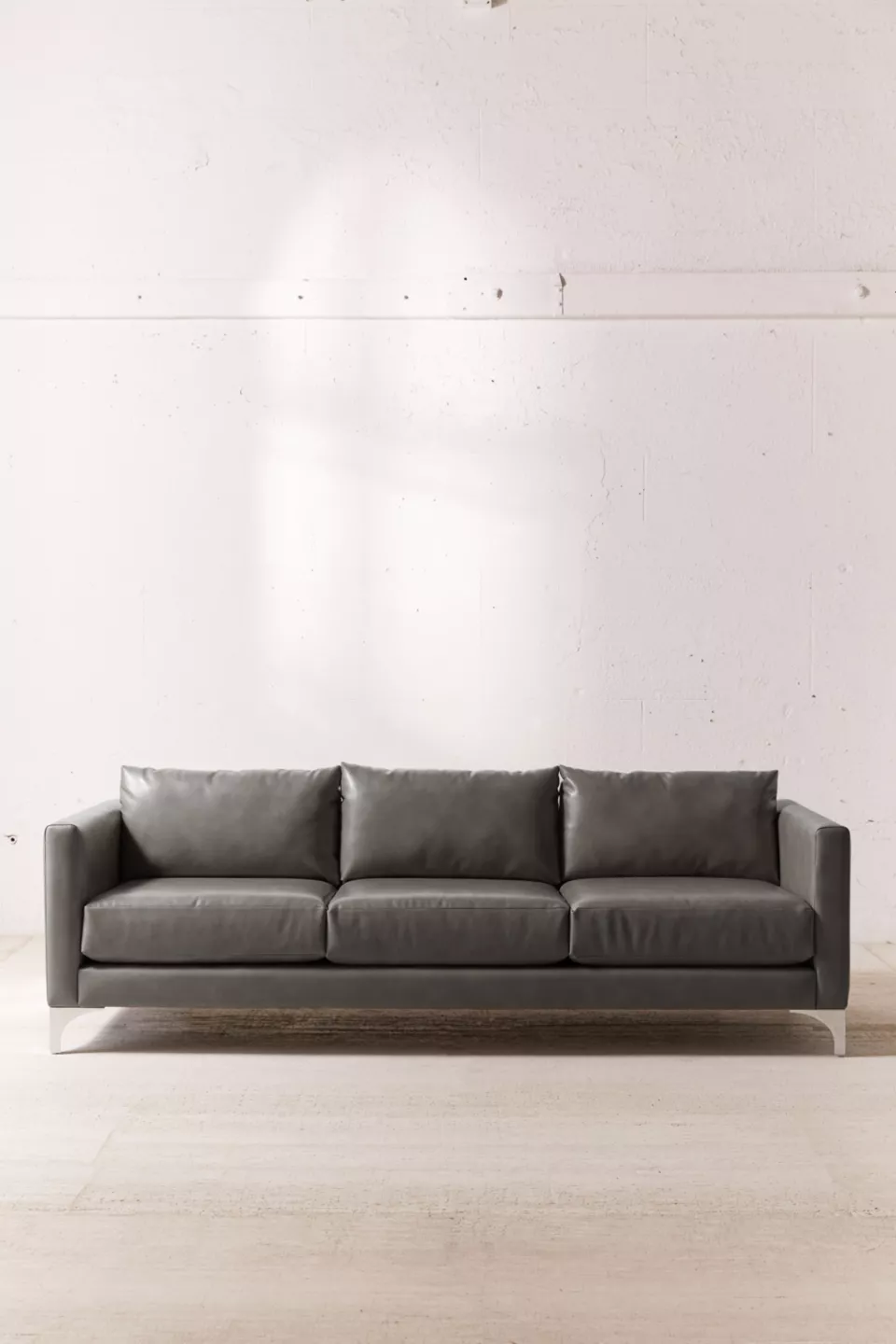 This dark gray leather sofa is beautifully modern and sleek. This recycled leather sofa actually comes in a four different leather colors, so you can customize this to suit your home perfectly. I'm especially fond of those sculptural metal legs against the rich leather.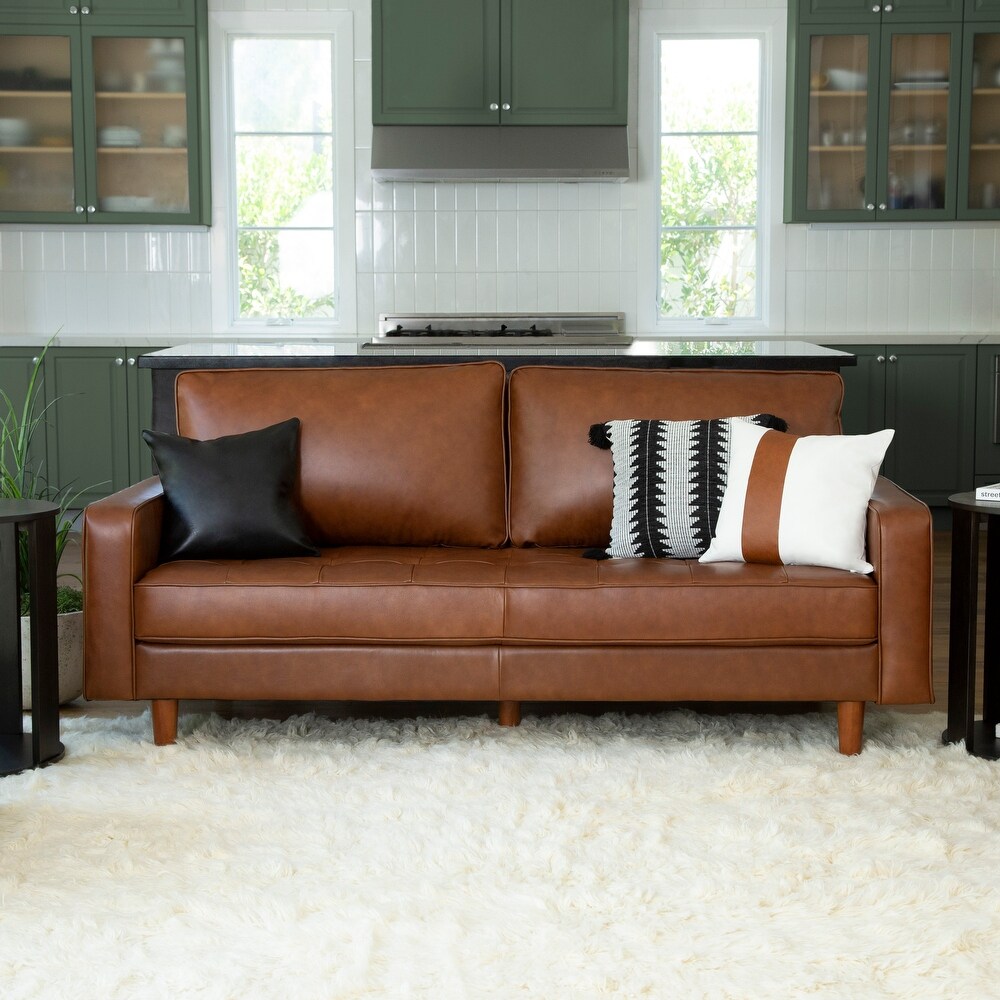 There is so much to love about the Holloway Leather Sofa. The tufted seat is GORGEOUS and the single bench cushion gives it such a sleek look. The other advantage of just one cushion is that you won't get crumbs, dog fur, etc. migrating down into the center of your sofa.
Again with the single bench cushion — love! I'm also a big fan of that clean, sloped arm. This mid-century style beauty is by Amazon's house brand Rivet. I've been seeing a lot of them lately — their collection is AWESOME. And so affordable! I urge you to go check them out immediately.
You guys. I reaaalllly dig this one. It's a triple threat: old-school tufting, modern silhouette, and those high curved arms to curl up against with a good book. So so good. If I were doing my office (again), this would definitely be on my shortlist.
The Poly & Bark Leather Sofa is a great option if you love the look of a clean bench cushion. Those bolsters on either end? So chic. I might need to declare this my favorite of the bunch…
The Apgar Leather Sofa sports rich caramel leather with a gorgeous tufted bench cushion. I think this one would really shine as the leather started to break in a bit and develop a yummy vintage-y patina.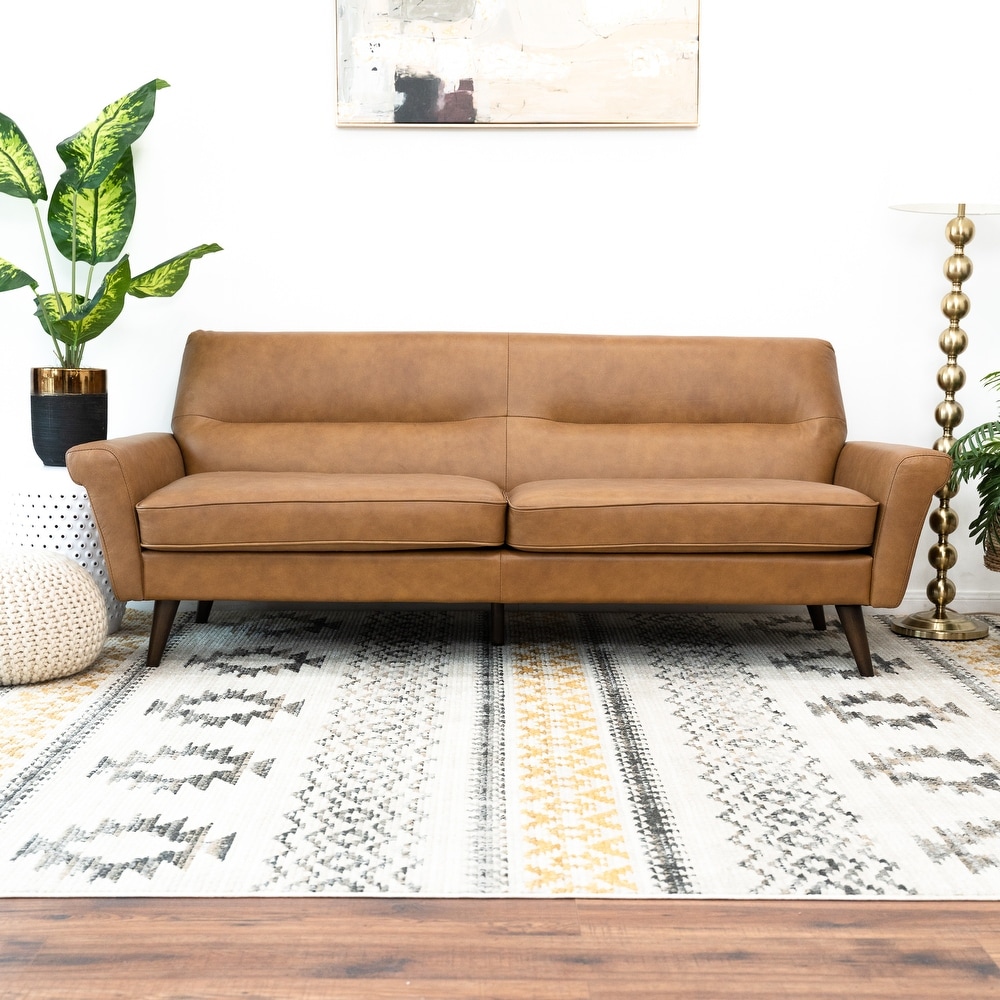 A reader emailed asking to see a sofa like the one in the cover photo of this post. Ask, and ye shall receive! The Parma Loveseat is its sister from another mister. Beautiful modern lines with that great partial channel tuft across the back. This sofa tends to go out of stock, but you can sign up to receive an alert when it's available again. Unfortunately, the shipping isn't free, but the price is right at well under 2K.
So which leather couch is your favorite? If I were in the market for a new sofa, I'd go for that Poly & Bark beauty.
Once you pick your couch, discover the three perfect throw pillow combinations to style it beautifully!